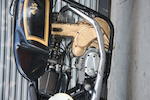 1956 AJS 7R Short Stroke
Frame no. 1507
Engine no. 1507
Built from 1948 to 1963, Associated Motor Cycles' AJS 7R - known as the 'Boy Racer' - was one of the most successful over-the-counter racing motorcycles of all time. Almost all of Britain's road-race stars of the 1950s and 1960s rode a 7R at some stage of their careers and the model remains a major force in classic racing today, being highly sought after by competitors and collectors alike.

Although a new design by Phil Walker, the 7R, with its chain-driven overhead-camshaft, was very reminiscent of the AJS 'cammy' singles of pre-war days. Despite the fact that the 7R was not, initially, as powerful as its main rivals - the Velocette KTT and Junior Manx Norton – its robust and simple construction endeared the model to the privateer responsible for his own maintenance. While the duplex loop frame and Teledraulic front fork remained essentially unchanged throughout production, the engine underwent almost continuous revision: the valve angle being progressively narrowed, the crankshaft made stronger and, in 1956, engine dimensions changed from the original long-stroke 74x81mm bore/stroke to the 'squarer' 75.5x78mm, permitting higher revs. AMC's own gearbox replaced the previous Burman in 1958, while engine development continued almost to the end of production, by which time the 7R was putting out around 41bhp.

This particular 7R participated in 58 races between March 1994 and March 2001, going out on a high when it won the 350cc event at Daytona's Classic '60s meeting. Its results include four 1st places and several podium finishes (many obtained in 500cc races) with only one retirement, caused by a broken chain adjuster. The 1st place finishes were obtained at Road America (May 1997); Mid Ohio (July 1997); and Daytona Classic '60s (March 1998 and March 2001).

A major rebuild was completed in September 2007 and the machine has not been used since then. The motor is upgraded with a titanium con rod, Newby billet steel flywheels, Cosworth forged piston, Nikasyl cylinder and 1962 specification camshaft. The Avon tires are new. Assorted spares offered with machine include a pair of clip-on 'bars, clutch plates, control cables and a selection of alternative drive sprockets.
Footnotes
Saleroom notices
Please note that the correct frame number for this motorcycle is F11-35702913166. Furthermore, please note that this lot is offered with 3 folders of additional information, including the 'Engine Build Notes', 'Technical Information' and full 'Race Records'.