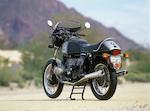 1976 BMW R90S
Registration no. AZ CAP3
Frame no. 4990510
Engine no. 4990510
Heading the new /6 line-up, the R90S shattered for ever the perception that BMW motorcycles as staid and stodgy touring machines. It represented a new direction, combining innovative styling, class-leading performance, and supreme refinement. And for the only time in the history of BMW production motorcycles [until 2008 and the S1000RR], the R90S's performance was comparable to that of any motorcycle produced in Japan, Italy or England. In 1976 a race-prepared R90S, ridden by Reg Pridmore won the Daytona 200 and the AMA Superbike championship

Released in October 1973 the R90S was the pioneer and it remains the classic post-1970 boxer. The impetus behind it was one Bob Lutz, the American-born, then BMW sales director, with ex-Ford stylist, Hans A. Muth. If nothing else it was a styling tour de force. No one can mistake the hand-painted Daytona Orange or TT Silver Smoke, both air-brushed. Only 676 1976 R90Ss were reportedly imported into the USA.

This particular, "final year" example, is blessed with an incredibly well documented history. It was first sold on August 2, 1976, almost certainly in California, having passed through a couple of owners, was sold in the mid 1980s to Tim Diaz of Orange County BMW dealer Irv Seaver. Tim plunged into a full restoration, the bike having covered some 46,000 miles. The goal for an accurate restoration was both extensive mechanically and aesthetically, and painstakingly executed – engine and gearbox rebuilt by Tim, with the framepowder coated, and the bodywork painted by Tom Prewitt of Damon's Paint and Body, a well-respected hot rods and Harley custom painter.

Gary Cooper, then an executive at BMW Motorcycles of America, bought the newly restored bike home to New Jersey, but after minimal use, it was acquired by the current vendor in April 1989 with just 300 miles on the reset odometer. Its current 18,825 miles were all ridden around Phoenix, Arizona. Recent preparation for this sale was carried out by BMW dealer Go AZ in Phoenix. Reportedly it starts and runs as one would expect of such a well-cared for, well-ridden machine.

This stock machine is accompanied by its original two keys (one folding, the other the barrelstyle) as well as its original owners manual, factory tool kit, factory service manual, and a substantial file of receipts, notes, brochures, factory photographs, and relevant newspaper and magazine clippings.

Featured in BMW Motorcycles (Motorbooks) by Darwin Holmstrom, the bike now sports original shocks and the luggage frames have been removed.
Footnotes