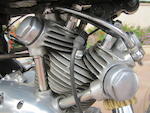 1950 Vincent B Series Meteor
Frame no. R/1/5139
Engine no. F5AB/2/3239
The Meteor will always have a special place in Vincent history. After buying the bankrupt HRD company in 1928, new owner Philip Vincent restarted production using engines purchased from other firms, a standard practice back then. This turned out to be an unsatisfactory arrangement as Vincent had his own ideas about how a motorcycle engine should be built. Thankfully, these jived with Australian engineer Phil Irving's design plans, and "the two Phils" came up with the 498cc Meteor single in 1935. It was Vincent-HRD's first in-house motor, and would power a line of single-cylinder roadsters. As legend has it, Irving later came up with the idea of a V-twin after seeing two drawings of the single superimposed on one another. Doubled-up the design would lead the way to Vincent's mighty 1000cc V-twins and record-setting glory on the world stage.

Known as the A Series, the original Meteor motor was a compact overhead-valve, short-stroke design with a high-set cam and abbreviated pushrod tubes. The powerplant's worth was immediately proven in the 1935 Isle of Man Senior TT, where three of the new Vincents finished 7th , 9th and 12th. Sales increased as did the company's reputation.

When Vincent production restarted following WWII as the B Series, the flagship V-twins came first, followed by the single in 1949. It was initially offered in two forms – the Meteor and a higher-spec Comet – the main differences between the two being the new Girdraulic front fork fitted to the latter, while the former retained the previous Brampton girder, plus the Meteor had a slightly smaller carburetor. While the Comet would remain in production almost until Vincent's demise in 1955, the Meteor was phased out during 1950 and dropped from the range, making it one of the rarer of postwar Vincents.

Nicely restored and in very good running condition, this Series B Meteor from the final year of production is a matching-numbers motorcycle with the correct Brampton forks and Burman BAP four-speed gearbox.
Footnotes
Saleroom notices
Please note that this motorcycle is titled with engine number FSAB23239 instead of the correct engine number F5AB23239.