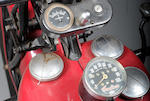 c.1938 Indian Pony Scout
Engine no. FC576
A smaller Indian v-twin model, the 37ci (600cc) Scout, joined the existing 61ci (1,000cc) Powerplus twin in 1920, to be followed by a 45ci (750cc) variant in 1927. Introduced in April 1928, the 101 Scout featured a revised 750cc sidevalve engine in a new, longer-wheelbase frame, and this sporting machine would prove an immense success for the Springfield firm, so much so that its replacement in 1931 by a heavier Chief-framed model was greeted with dismay. In 1932, a smaller, 30.5ci (500cc) Junior Scout was introduced and this model - referred to as the Scout Pony from 1937 and the Thirty-Fifty from 1940 - continued in production into the war years alongside a revitalised 45ci Sport Scout. In practice, the Junior Scout name is these days commonly applied to all 30.5ci models. Military derivatives of the 30.5ci and 45ci Scouts, designated Models 741B and 640B respectively, were produced for the Allied forces during WW2's early years before the US Army switched to the ubiquitous Jeep.

At time of cataloguing it had not been possible to determine the precise date of manufacture of this Pony Scout or the capacity of the engine (30.5ci or 45ci), which is of the 1933-onwards, dry sump type, although the 'F' prefix suggests that it is a '45'. Most of the major components appear to date from the late 1930s, notable exceptions being the Model 741 gas tanks and post-war saddle and luggage rack. The Linkert carburettor is likewise non-standard. When the motorcycle came together in this form is not known, but the combination of the 45ci engine (if indeed it is) in the Pony Scout frame is one that Indian tried with the one-year-only 1933 Motoplane, and this particular machine may have been one enthusiast's attempt to recreate that rare Springfield model.

The current vendor purchased the Indian at Bonhams' sale of the Richard C Paine Jr Collection at Owls Head, Maine in September 2008 (Lot 815). Since acquisition the machine has formed part of the Fabergé Museum collection in Germany and will require re-commissioning and safety checks prior to returning to the road following a period of static display.
Saleroom notices
Please note that this motorcycle is titled under its engine number and its title is in transit. Please note, that this motorcycle is subject to California Highway Patrol VIN inspection--a simple procedural matter on which the condition or history of the motorcycle has no bearing. Following the auction, this lot will be transported to San Francisco, at no cost to the buyer, and will be available for collection from San Francisco on January 23rd.