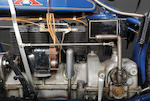 1928 Henderson Four
Engine no. 28267
One of the most charismatic names in American motorcycling history, Henderson produced nothing but four-cylinder motorcycles in the course of its 19-year existence. Founded by Tom and William Henderson in Detroit in 1912, the firm passed into the control of Chicago-based cycle maker Ignaz Schwinn, owner of Excelsior, in 1917. The Hendersons soon moved on to found the Ace motorcycle company - later taken over by Indian - and thereby had a hand in the design of all the major American-built fours. Although early models featured an unusually lengthy frame extending well forward of the engine, the Henderson, like the contemporary Indian and Harley-Davidson, was an advanced design for its day. Displacing 965cc initially, the air-cooled cylinders were arranged longitudinally in the frame and employed mechanically operated 'F-head' (inlet-over-exhaust) valve gear. There was single-gear transmission but the Henderson outclassed its rivals for convenience by having a clutch and a hand-crank starter instead of pedals. A shorter frame, folding kickstarter and three-speed sliding-gear transmission were all Henderson features by 1917. Introduced for 1920, the Model K benefited from a redesigned 1,301cc sidevalve engine equipped with forced lubrication, a new twin-downtube frame, strengthened front fork and enclosed rear chain. Modifications to the De Luxe (introduced for 1922) mainly concentrated on improvements to the gearbox. Top speed was a guaranteed 80mph, and with the optional alloy pistons installed a De Luxe could touch 100mph, an astonishing performance for the time, and one matched by few contemporary cars.

This example of one of the most desirable of all American motorcycles has been cosmetically restored and is equipped with Corbin speedometer, oil pressure gauge, ammeter, rear view mirror, electric horn and rear wheel stand. Although fitted, the headlamp contains neither bulb nor lens, while the front brake mechanism is likewise missing.

The current vendor purchased the Henderson at Bonhams' sale of the Richard C Paine Jr Collection at Owls Head, Maine in September 2008 (Lot 817). Since acquisition the machine has formed part of the Fabergé Museum collection in Germany and will require re-commissioning and safety checks prior to returning to the road following a period of static display. It is offered with bill of sale and transfer document relating to its purchase by the Paine Trust from Curt Whitehouse in 1985.
Saleroom notices
Please note that this motorcycle is titled under its engine number and its title is in transit. Please note, that this motorcycle is subject to California Highway Patrol VIN inspection--a simple procedural matter on which the condition or history of the motorcycle has no bearing. Following the auction, this lot will be transported to San Francisco, at no cost to the buyer, and will be available for collection from San Francisco on January 23rd.