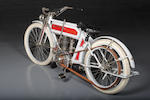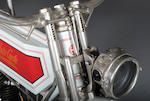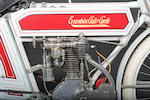 1911 Excelsior 30.5ci Auto Cycle
Engine no. 13119
The famous American Excelsior motorcycle was produced by the Excelsior Motor Manufacturing Company of Chicago, Illinois from 1907 until 1931, latterly under the 'Super X' brand name. Introduced in 1907, its first offering was the 'Auto Cycle', a belt-driven, 30.5ci (500cc) single cylinder machine, the engine of which formed part of the frame. The engine itself was an inlet-over-exhaust 'F-head', a design then much in vogue because, whatever its limitations, it enabled the exhaust valve to be directly cooled by the incoming mixture, a positive advantage at a time when the science of metallurgy was in its infancy. A 61ci (1,000cc) v-twin joined the range for 1911, at which time Excelsior was acquired by bicycle maker, Ignaz Schwinn, and in 1913 was offered with all-chain drive, while two-speed planetary transmission and a leaf-sprung, Indian-style front fork were two of the following season's innovations.
A well preserved older restoration, this wonderful Excelsior Auto Cycle comes equipped with Troxel leather saddle, Herz magneto, Universal Tire Co studded tires and 'Old Sol' headlight by Hawthorne Mfg. Co. of Bridgeport, CT. Manufacture of this original single-cylinder model ceased soon after the new v-twin's arrival in 1911, and today these pretty Excelsior singles are among the rarest and most sought after of early American motorcycles.

The current vendor purchased the Excelsior at Bonhams' sale of the Richard C Paine Jr Collection at Owls Head, Maine in September 2008 (Lot 820). Since acquisition the machine has formed part of the Fabergé Museum collection in Germany and will require re-commissioning and safety checks prior to returning to the road following a period of static display. It is offered with bill of sale dated 29th April 1991, the date on which it was acquired by the Paine Trust.
Saleroom notices
Please note that this motorcycle is titled under its engine number and its title is in transit. Please note, that this motorcycle is subject to California Highway Patrol VIN inspection--a simple procedural matter on which the condition or history of the motorcycle has no bearing. Following the auction, this lot will be transported to San Francisco, at no cost to the buyer, and will be available for collection from San Francisco on January 23rd.