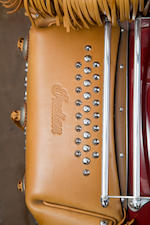 1947 Indian Chief
Engine no. CDH 3349
Is there a more iconic shape in American motorcycling than a skirted Indian Chief? Those big valanced fenders are unmistakable; then as now, they set the bike apart from anything else on the road. For a style so associated with a brand, it's surprising that the fenders didn't make their appearance until 1940, some 39 years after the company's founding. Indian went all-in on the design, outfitting Scouts, Chief and Fours with the new tinware. After World War II only the Chief made a return, supposedly a stop-gap measure until lighter, more advanced models came online. But a series of financial and engineering missteps doomed the company and Chiefs were still being sold when the Springfield, Massachusetts factory shut its doors in 1953.

To many viewers the postwar girder-fork Chiefs are the model's styling epitome. This immaculately restored 1947 makes that point, especially with its chrome-plated front end, custom-painted pinstripes and Indian headdress logo on the gas tank sides, and its fringed seat and saddlebags in tan leather.
Footnotes
Saleroom notices
Please note that the frame and engine numbers for this motorcycle are 3483349 and CDH3349 respectively and its title is in transit. Please note, that this motorcycle is subject to California Highway Patrol VIN inspection--a simple procedural matter on which the condition or history of the motorcycle has no bearing. Following the auction, this lot will be transported to San Francisco, at no cost to the buyer, and will be available for collection from San Francisco on January 23rd.