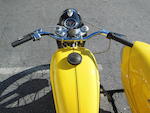 1973 Pannonia 250cc T5 with Duna sidecar
Frame no. T573022658
Little is known of the Hungarian Pannonia motorcycle in the west even though well over a million units emerged from the Budapest factory between 1954 and 1975. In 1951 the manufacturer changed names from Csepel (an island in the Danube just south of Budapest) to Pannonia (the name of their region) in a thoughtful attempt to support the factory's new export strategy. To be fair, the vast majority of the motorcycles were exported behind the Iron Curtain, using the Csepel, Tunde, Panni, Danuvia, White and Pannonia brands, the Soviet Union is believed to have taken well over thirty percent. Poland probably came next in consumption. Production ended in 1975 by order of the government so that the factory plant could concentrate on agricultural machinery instead although to the relief of the factory management, perhaps, because there was hint of lack of profitability.

Critical to the Pannonia product was driving comfort and reliability. Telescopic forks and a well-damped swing arm at the rear came early on as did magneto ignition, apparently essential to starting the bike in Siberia, in winter. The T5 is a 250cc air-cooled 2-stroke with about 18hp which demanded a featherweight sidecar not weighing more than about 140lb. The Duna steel-frame, aluminum body sidecar, manufactured close by on the Danube by Vaci Hajogyar, the shipyard, was the answer. Complete with stylish "rocket nose"! Clearly the Pannonia is one tough motorcycle although it's disappointing to learn how few may be left today. In October 2007 only 77 Pannonia motorcycles were still registered in the Estonian Motor Vehicle Registration Center.

With a recorded 133km on the odometer, this extremely rare Pannonia and Duna outfit is reported to be in excellent running condition and would likely make a wonderful, go anywhere, summer ride.
Saleroom notices
Please note that the engine number for this motorcycle is 7322658.