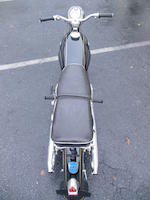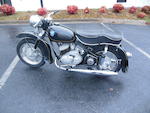 1954 Adler MB250
Frame no. 302770
Heinrich Kleyer was the first to manufacture typewriters in Germany. He started in 1898 in Frankfurt and eventually built his Adler company – German for eagle – into something of an engineering powerhouse. Adler followed typewriters – his revolutionary Model No. 7 acquired legendary status before the word digital ever reached a dictionary - with bicycles, automobiles and motorcycles. Post WW II motor car manufacture was not resumed but in 1949 motorcycle production restarted which soon led to the Adler MB250, a high quality, two-stroke machine whose design features were then given to BSA as part of the Allies' war reparations program; BSA used some of the Adler design concepts in the Ariel Arrow and Leader models. Soon Suzuki and Yamaha took notice, too. Meanwhile Adler focused on all kinds of other office equipment, too is bought by Grundig, merged with the (German) Triumph typewriter company to form Trumf-Adler, then taken over by Olivetti. Motorcycle manufacture ends in 1956.

The bikes were as well-made as the cars had been and Adler had a talented engineer in Hermann Friedrich, whose most famous design was the MB250. This twin-cylinder two-stroke formed the basis of racing and ISDT bikes and also of Ariel and Yamaha designs. This example has been restored by former Adler employee Erich Bley who had emigrated to the USA, opened an engineering shop in Chicago before retiring to Florida. Bley flew the Adler flag in AHRMA racing for many years in the late 1980s and 1990s and he knew only one way of restoring his beloved Adlers – the right way. Much praised when new for handling, speed and reliability, an Adler MB250 such as this one – with 133km showing on the odometer - suitably checked over before use, will make a fine summer mount or a rare museum exhibit.
Saleroom notices
Please note that the engine number for this motorcycle is 302770.