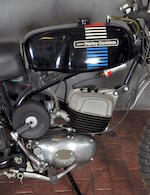 1973 Harley-Davidson Baja 100
Engine no. 6C10566H3
It's rare to find one authentic-and-unrestored Baja 100 in any Harley collection, so we were pleasantly surprised to discover a second showroom-fresh version among the Pierce machines, this time a 1973 model with the lighting kit. More often than not these bikes were ridden into the ground, so all that remains are rusty hulks, or conversely, exactingly restored examples. To find a pair of Baja 100s in such unmolested, as-delivered condition is indeed a rare treat.
Saleroom notices
Please note that the frame number for this motorcycle is 6C10566H3 and its title is in transit.