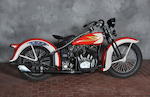 1935 Harley-Davidson VLD
Engine no. 35VLD1317
Third of the Pierce collection's VL models, another older restoration, this machine is the most flamboyant, featuring two-tone paint on the gas tanks and fenders, with the art-deco logo on the tank sides set off by a white panel. Successor to the previous J models, the VLs were considerably more road-worthy, with even more robust frames and bigger balloon-type tires, plus they benefited from the era's advances in technology and metallurgy. This example wears the standard sprung solo seat and is equipped with optional chromed saddlebag hangers.
Saleroom notices
Please note that this motorcycle is titled under its engine number and its title is in transit.