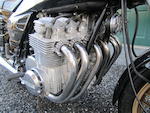 1983 Benelli 900 Sei
Frame no. ZBNB0AB07DP011290
Engine no. BGB011293
The Benelli factory was opened in Pesaro, Italy in 1911, and thus is one of the longest running motorcycle businesses in Europe. Ironically, perhaps, Moto Guzzi, founded in 1921, was bought by Benelli in 1972 and is Europe's oldest motorcycle factory in non-stop operation. Under the strong-arm of widow Teresa Benelli, who had invested all her family capital – financial and human (six sons) - the Benelli Garage thrived on repairing bicycles and motorcycles. The first Benelli motor-bicycle complete with in-house 75cc single-cylinder 2-stroke was launched in 1919. By 1921 it was a real motorcycle and 98cc.

Riding a Benelli single-overhead cam 175, youngest son Tonino Benelli won three Italian road racing championships in four years, in 1927, 1928 and 1930, and again in 1931 with a double overhead-cam version. By 1939 Benelli was ready with its 250cc supercharged 4-cylinder but with WW II on the horizon its success was limited. Postwar production began again and by 1951 Benelli offered a huge range of both 2-stroke and 4-stroke machines, 98cc through 500cc singles. In 1962 Benelli bought family-offshoot Motobi – the combined manufacturing resources were capable of producing 300 motorcycles a day! But time was running out for both British and Italian manufacturers.

DeTomaso, best known for its Ford-powered Pantera, bought Benelli when on its knees in 1971, and Moto Guzzi a year later. The whole world heard from Benelli again when their 6-cylinder 750 copy of a Honda CB 550 hit the streets." The later 900 Sei with fresh Carrozzeria Ghia designed "group" bodywork was the best of the bunch. From any angle the 900 Sei is good looking, matched by good handling, brakes and speed. The exhaust is "ripping silk". This stock example is lightly used with a believable 7620 miles on the odometer but will require light re-commissioning before further use. The seller has owned it for 15 years. He bought it from a Paul Tavilla of Fort Lauderdale, Florida who likely was the original buyer.
Saleroom notices
Please note that the title for this motorcycle is in transit.