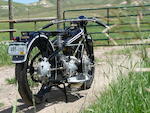 1927 BMW R42
Frame no. 13049
Engine no. 43068
It was designer Max Fitz, forbidden by treaty from working on aircraft engines following World War I, who came up with the blueprint for BMW motorcycles that the company follows to this day, 90 years after the first R32 was produced. That first bike featured his now-familiar transverse-mounted "boxer" motor, its twin cylinders jutting out into the cooling breeze. Also present from the beginning was shaft final drive; BMW's attention to engineering and focus on solid build quality was already readily apparent.

The R42, introduced three years later in 1926, moved the brand more firmly down the road to profitability and success. Its redesigned and more powerful 500cc engine, now with aggressively finned detachable alloy heads, made the bike a better tourer. With the engine repositioned in the frame for improved weight distribution, stronger, straighter front downtubes could be employed, sharpening the bike's handling. Braking too was improved; gone was the arcane block-and-pulley type rear brake, replaced by a drum on the driveshaft gripped by external contracting bands. Stylistically, the R32's quaint valanced fenders gave way to simpler, more modern looking sheetmetal. Despite the fact that all BMW two-wheelers built up to 1941 owe much to the R42, its production lasted just three years, making this rare Bimmer among the brand's most desirable and sought-after vintage machines.

This numbers-matching, second-year R42, complete with its optional Bosch electric lighting set, horn and magneto, has a great pedigree verified by the archivists at BMW Mobile Tradition. It was restored a few years ago by noted BMW specialist Craig Vechorik at his Bench Mark Works shop, and has seen just 300 miles since the full rebuild. The current owner keeps the machine in show-worthy, rideable condition; included in the sale is a small selection of spares, much paperwork and a notebook documenting the bike's restoration.