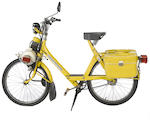 1974 Motobecane Velosolex
"The Horse" as it was coined for being sleek yet powerful. The Solex 4600 motorized bike was, and still is, the perfect ride around town while at the same time allowing you to get some exercise as well.
Made by Motobecane, the Solex 4600 was smartly engineered. The engine is affixed above the front wheel and driven by a roller friction device which gives it the outstanding gas mileage of 218 miles per gallon. The Horse's features include seal beam headlight, stop-tail light, electric horn, and a luggage carrier. These features give it functionality yet grace in the urban and rural environments.

The end of the Solex 4600 came in 1978, with 8000 models sold in the States.

Footnotes
Saleroom notices
Please note that the frame number for this motorcycle is 808639