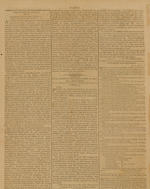 WASHINGTON ON RELIGIOUS FREEDOM.
Gazette of the United States. Philadelphia, PA: September 11 and September 15, 1790. 4 pp. Folio.

"THE GOVERNMENT OF THE UNITED STATES GIVES TO BIGOTRY NO SANCTION, TO PERSECUTION NO ASSISTANCE...."
The September 11 issue of the Gazette gives the news of Washington's address to the Newport Hebrew congregation. The September 15 issue of the Gazette contains the text of Mose Seixas' "Congratulatory Address to George Washington on Behalf of the Hebrew Congregation of Newport, Rhode Island," immediately followed by Washington's response, "Letter to the Hebrew Congregations of Newport"(P4C2-3). Together, these are considered to be two of the most valuable newspaper items in Americana Judaica, as well as a bedrock expression of national religious liberty. The phrase describing a government that "gives to bigotry no sanction, and to persecution no assistance," was originally coined by Seixas in his moving, Biblically toned greeting to the president, and was repeated by Washington in his reply, assuring it a place among the most cherished in the American historical vocabulary.
George Washington's visit to Newport, Rhode Island, August 17-18, 1790 ranks among the seminal episodes in the history of American Jewish religious liberty. Washington left Rhode Island off his travel itinerary the previous year in response to the state's failure to ratify the Constitution. By 1790, after becoming the last state to ratify, Washington visited Newport along with members of his administration, including Thomas Jefferson. Moses Seixas (1744-1809) a Newport merchant, warden of Kaal Kadosh Yeshuat Israel (Newport Hebrew Congregation), and a prominent Mason, was one of the civic leaders who met with Washington. Seixas had a long history as a revolutionary patriot: he remained in the city after it was occupied by the British during the war and signed a document during the occupation pledging loyalty to the patriotic cause. Additionally, his brother Rabbi Gershon Mendes Seixas, minister of New York's Shearith Israel Congregation, known as the "patriot rabbi" was one of fourteen clerygymen officiating at Washington's 1789 Presidential inauguration. Finally, as a fellow Mason, he and Washington would have had a natural connection.
Seixas' eloquent message reads in part: "Deprived as we heretofore have been of the invaluable rights of free Citizens, we now with a deep sense of gratitude to the Almighty disposer of all events behold a Government, erected by the Majesty of the People — a Government, which to bigotry gives no sanction, to persecution no assistance — but generously affording to all Liberty of conscience, and immunities of Citizenship: — deeming every one, of whatever Nation, tongue, or language equal parts of the great governmental Machine: — This so ample and extensive Federal Union whose basis is Philanthropy, Mutual confidence and Public Virtue, we cannot but acknowledge to be the work of the Great God, who ruleth in the Armies of Heaven, and among the Inhabitants of the Earth, doing whatever seemeth him good."
Washington, in his response, takes care to echo Seixas' language regarding religious freedom: "The Citizens of the United States of America have a right to applaud themselves for having given to mankind examples of an enlarged and liberal policy: a policy worthy of imitation. All possess alike liberty of conscience and immunities of citizenship. It is now no more that toleration is spoken of, as if it was by the indulgence of one class of people, that another enjoyed the exercise of their inherent natural rights. For happily the Government of the United States, which gives to bigotry no sanction, to persecution no assistance, requires only that they who live under its protection should demean themselves as good citizens, in giving it on all occasions their effectual support."
See JE, Vol. IX, pp. 294-295; EJ. Vol. XIV, p. 1117; J.L. Blau and S.W. Baron, The Jews of the United States 1790-1840, A Documentary History, Vol. 1 (1963), pp. 8-10.