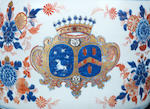 A pair of important and massive ormolu-mounted Chinese Imari armorial beaker vases, gu
Circa 1715-1720, the European ormolu mounts probably first half 19th century
The imposing vases each with a projecting middle section, surmounted by a tall flaring neck with a trumpet-shaped mouth, all supported on a corresponding tall spreading foot, decorated in underglaze blue, iron-red and grisaille and gilt, the central section decorated on each of the four sides with the joint coat of arms framed by an acanthus scroll and two cherub faces surmounted by a coronet, each arms flanked by composite floral sprays including blossoming peony, chrysanthemum, lotus, pomegranate and hydrangea, the shoulders of the mid-section with ruyi-head and lozenge borders, the neck of one vase with a fenced garden, the columns surmounted by mythical beasts guardians, the garden enclosing plantain, bursting pomegranate, flowering peony, lotus, and aster all amidst rockwork below cloud scrolls, the other vase similarly decorated on the upper section with a fenced garden enclosing the 'Three Friends of Winter', pine, prunus and bamboo, the lower section on each vase with large sprays of lotus and peony flowers issuing from rockwork, each decorative section framed by a narrow border enclosing flower sprays on red-seeded ground, the interior mouth rims with a narrow floral border, each with a pair of striking ormolu mounted handles, formed as a glaring satyr head set on the projecting section, issuing two intertwined grooved foliate branches curling over the 'pie-crust' ormolu rim, each with metal liner and pair of ormolu-mounted gilt-wood stands. Including ormolu, each 106cm (41 3/4in) high (6).
Footnotes
Saleroom notices
Further research has shown that a near identical beaker vase bearing the same coats of arms is in the British Royal Collection. The Royal Collection vase was acquired for King George IV whilst Prince Regent in 1817 and is now in the Chinese Dining Room at Buckingham Palace. It is illustrated by D.Souden, L.Worsley and B.Dolman in The Royal Palaces of London, London, 2008, p.198.