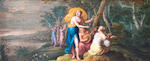 17th Century Antwerp ebony cabinet
flanked by eight drawers with painted copper plates by Frans Francken III (Antwerp 1607-1667). The cabinet in ebony with ripple mouldings and gilt metal and glass mounted ornament, inset with painted copper panels depicting the life of Moses, the centre of architectural design with a mirrored interior with columns and parquetry floor in ivory and tortoiseshell between eight drawers with ribbed fluted glass decoration, enclosed by arched panel doors between columns with a drawer in the form of a broken pediment with reclining female figures, putti, cartouches and repousse scroll work and drawer below, flanked by eight drawers depicting:
1. Moses slaying the Egyptian
2. Moses and the Burning Bush
3. The Finding of Moses
4. ?Pharoah's daughter and handmaidens beside the Nile
5. Moses destroys the tablets of the law
6. The gathering of manna
7. Aaron collects gold from the Israelites to make the Golden Calf
8. Moses defending the daughters of Jethro
and on the central panel doors:
9. The parting of the Red Sea
10. The Egyptians consumed by the waters of the Red Sea

enclosed by a pair of later glazed panel doors and containing two drawers veneered in scarlet tortoishell and ivory below, the stand of a later date on chamfered legs, bearing a label on the back 'Lilies' which relates to the Lilies, Aylesbury, Buckinghamshire, the home of Lord Nugent. 122cm wide x 112cm deep x 52cm high (48 1/16in wide x 44 1/8in deep x 20 1/2in high).
Footnotes
Saleroom notices
Please note that the later panel doors mentioned in the catalogue description are wood doors and not glazed as stated.