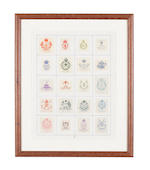 A group of twenty framed and glazed Regimental crests including The Printer's Advertising Details
By Henry Rodrigues, 42 Piccadilly, London, W., Late 19th Century
the first giving the maker's details and depicting 'Specimens Of First-Class Artistic Engraving...'; the remainder representing numerous British regiments including those serving in India, South Africa and Canada, all in bright colours (20)
The first 28 cm. X 21.5 cm., the remainder 29.5 cm. X 24.5 cm.