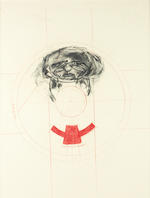 William Joseph Kentridge (South African, born 1955)
Anamorphic self-portrait
Charcoal and coloured pencil on paper with cylindrical mirror (13x9cm)
76 x 55cm (29 15/16 x 21 5/8in).
Footnotes
Saleroom notices
Please note, the cylindrical mirror is contained in a hand-decorated box dated 2005. The mirror can be placed on the lid of the box, resulting in further anamorphic effects.