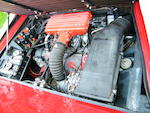 1984 Ferrari Mondial Qv Cabriolet
Coachwork by Pininfarina
Chassis no. ZFFLC15B000051909
Ferrari's first effort at building a car suitable for markets throughout the world, the Mondial 8 deployed the 308GT4's 3.0-litre quad-cam V8 engine in a lengthened version of the latter's chassis. Transmission and running gear remained much the same, with five-speed transaxle and independent suspension all round. Although reckoned by some to be less sporting than other Ferraris, the Mondial was still good for 140mph-plus and its ride quality and comfort scored over long distances.

Considerably roomier than previous Ferrari 2+2s, the Pininfarina-styled Mondial has been described by Car magazine as 'the closest you'll get to supercar family transport.'

The left-hand drive Mondial Qv cabriolet offered here has the quattro-valvole (four valves per cylinder) engine introduced in 1982. Currently registered in the United Kingdom, the Ferrari was acquired in June 2011 by the current vendor, who has kept the car in Italy and used it sparingly. The Mondial has been maintained by the owner's local mechanic and on a recent inspection started first time and sounded good. Finished in Rosso Corsa with Magnolia leather upholstery and black hood, this un-restored car is described as in generally good condition with 'fair' interior and no rips in the hood. New tyres are fitted all round. This stylish Ferrari soft-top is offered with owner's manual, sales brochure and UK V5C registration document. An after-market wooden steering wheel and gear lever are the only notified deviations from factory specification.

Ce cabriolet Mondial QV à conduite à gauche est donc équipé du moteur V8
'quatre soupapes' introduit en 1982. Actuellement immatriculée au Royaume-Uni, la Ferrari a été acquise en juin 2011 par le vendeur actuel qui s'en servit très peu en Italie. La Mondial, entretenue localement par le mécanicien du propriétaire, a récemment démarré sans problème lors de son examen qui a révélé un fonctionnement correct. De couleur Rosso Corsa avec intérieur en cuir Magnolia et capote noire, cette voiture non restaurée est décrite comme étant en bon état général avec un intérieur 'correct' et une capote sans marques de pliage. Cet élégant cabriolet Ferrari est accompagné du manuel d'utilisation, du catalogue descriptif et du document d'immatriculation britannique V5C.
Un volant et un sélecteur montés en après-vente sont les seules dérogations aux spécifications d'usine.