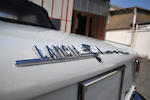 1965 Lancia Flavia Convertible
Coachwork by Vignale
Chassis no. 8153342051
Engine no. 5161
Launched in 1961, the Flavia saloon maintained Lancia's enviable reputation for advanced and innovative automotive engineering. Designed by Antonio Fessia and inspired by his Cemsa prototype of 1947, the Flavia was Italy's first series-production car to employ front-wheel drive. Carried well forward of the front wheels, the engine was a 1,488cc, overhead-valve, horizontally-opposed four; suspension was independent at the front and by beam axle at the rear, and there were dual-circuit, servo-assisted disc brakes all round. The saloon was joined by the shorter-wheelbase Pininfarina-styled Coupé in 1962, the latter providing the basis for a convertible version by Vignale. An attractive four-seater sports car, the Convertible enjoyed the stability, comfort, and handling virtues common to the rest of the range. In 1963 the range was updated with a 1,800cc engine, which when installed in the Coupé and Convertible produced 92bhp, good enough for a top speed of 173km/h. Only 835 Flavia Convertibles were produced with the 1.8-litre between 1963 and 1965, plus a further 43 fitted with fuel injection up to the end of 1966.

Benefiting from a recent comprehensive service, this 1.8-litre Flavia Convertible is offered from an Italian private collection. The car is finished in white with black vinyl interior and is described as very original. Representing a wonderful opportunity to acquire a coachbuilt Italian thoroughbred at relatively modest cost, it is offered with French Carte Grise dating from 1971.

Lancée en 1961, la berline Flavia s'inscrivait dans la tradition de technique innovante et d'ingénierie moderne de Lancia. Conçue par Antonio Fessia, inspirée de son prototype Cemsa de 1947, la Flavia était la première voiture italienne de série à traction avant. Placé en avant de l'essieu, le moteur était un quatre cylindres opposés à plat de 1,488 cm3 à soupapes en tête ; la suspension était de type indépendante à l'avant et à essieu rigide à l'arrière, on trouvait aussi un double circuit hydraulique et des freins à disque assistés aux quatre roues. La berline fut rejointe en 1962 par le coupé Pininfarina sur un empattement plus court qui fournissait également la base du coupé Vignale. Le cabriolet était une agréable quatre places qui s'avérait stable, confortable et tenait bien la route, comme le reste de la gamme. En 1963, la gamme reçut un nouveau moteur 1,800 cm3 qui, installé dans le coupé et le cabriolet donnait 92 cv qui autorisaient une vitesse de pointe de 173 km/h. Seulement 385 cabriolets Flavia furent construits avec le 1,800 entre 1963 et 1965, plus 43 équipés de l'injection jusqu'à la fin de production en 1966.

Ayant bénéficié d'une révision complète très récemment, cette Flavia 1,8 litre cabriolet provient d'une collection italienne privée. La voiture est peinte en blanc avec un intérieur en vinyl noir et est décrite comme complètement d'origine. Représentant une superbe opportunité d'acquérir un pur-sang à carrosserie italienne pour un coût modéré, elle est vendue avec sa carte grise française de 1971.