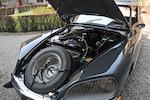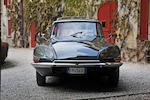 1968 Citroën ID19 Break Commerciale Estate Car
Chassis no. 3545991
Engine no. DY035800754
Just as it had done 21 years previously with the revolutionary Traction Avant, Citroën stunned the world in 1955 with the launch of the strikingly styled DS. Beneath the newcomer's aerodynamically efficient, low-drag bodyshell there was all-independent, self-levelling, hydro-pneumatic suspension; plus power-operated brakes, clutch and steering. No European car would match the DS's ride quality for several years, the fundamental soundness of Citroën's ahead-of-its-time hydro-pneumatic suspension being demonstrated by its survival in improved, computer-controlled form in present-day models. From 1956 a simplified ID19 version became available lacking the power-assists, though these were restored as the ID's specification improved over the years. The original DS/ID 1,911cc, overhead-valve, long-stroke engine was replaced in 1966 by a short-stroke 1,985cc unit, also available in 2,175cc and 2,347cc versions, while other developments included swivelling headlights, fuel injection and a five-speed gearbox. First introduced in 1959, the Break (estate) was available in eight-seater Familiale, Commerciale and Ambulance variants.

Equipped with the 1,985cc engine and manual transmission, this six-seater Commerciale has been completely restored by Italian Citroën specialist Marco Centomo of Verona and as a result is described as in excellent condition throughout. It currently displays a total of 88,000 kilometres on the odometer. The car is finished in grey with white roof and tan vinyl interior, and is offered with Italian libretto, Certificato di Proprieta and ASI certificate as well as an original owner's manual

Equipée du moteur 1,985 cm3 et d'une boîte de vitesses manuelle, cette ID 19 Commerciale six places a été totalement restaurée par un spécialiste Citroën italien , Marco Centomo, de Vérone, et son état ne peut être qu'excellent à tous points de vue. Le compteur affiche actuellement 88,000 km. De couleur gris et toit blanc avec intérieur en vinyle tabac, ce break est offert avec son libretto italien, son Certificato di Proprieta et un certificat de l'ASI ainsi que son manuel d'utilisation.