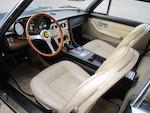 1968 Ferrari 365GT 2+2 Berlinetta
Coachwork by Pininfarina
Chassis no. 11799
Engine no. 11799
By the mid-1960s, 50 percent of all Ferraris produced were being built with four seats, and following on from the success of its first such model, the 250GTE of 1960, Ferrari introduced the 330GT 2+2 in 1964. Its replacement, the 365GT 2+2, was launched at the Paris Salon in October 1967. Sleekly styled by Pininfarina in the manner of the limited edition 500 Superfast, the 365GT 2+2 was the most refined Ferrari to date. As well as featuring independent suspension all round (for the first time on a Ferrari 2+2) it also boasted Koni's hydro-pneumatic self-levelling system at the rear. Further refinements included mounting the engine and drive-train in rubber bushes to insulate the car's occupants from noise and vibration, and offering power-assisted steering and air conditioning as standard equipment.

The well-proven 4.4-litre V12 engine was coupled to a five-speed gearbox, and the car's blistering performance was restrained by Girling ventilated disc brakes all round. Endowed with fine handling and a supple ride, the 365GT 2+2 was rated by Car magazine as, 'the most civilised Ferrari yet.'

Chassis number '11799' was sold new in Paris on the 26th November 1968 and has been registered in France ever since. In 1990, by which time it had covered 30,096 kilometres, the car benefited from a partial restoration including a major overhaul of all the mechanicals, new paintwork and an interior re-trim in Connolly leather. The Ferrari's subsequent owners have scrupulously maintained it in very good order, covering only some 24,000 kilometres in the 21 years since the restoration's completion. This careful ownership is reflected in the car's current fine condition; indeed, it could easily pass for one restored relatively recently.

We are advised that the paintwork remains in good condition and that the re-trimmed interior possesses a wonderful patina, with no cracked leather. The engine has benefited from regular servicing and is running sweetly; the gearbox shifts smoothly at all speeds; and all the electrical equipment is working normally.

The current owner bought the Ferrari in January 2011 and has only decided to sell it to finance the purchase of an older model. There are of 60 pages of restoration invoices on file and the car also comes with valid French Carte Grise.

Vendue neuve à Paris le 26 novembre 1968, la voiture châssis n° 11799 fut toujours immatriculée en France. En 1990, alors qu'elle avait parcouru 30,096 km, elle a bénéficié d'une restauration partielle comprenant notamment une réfection des organes mécaniques, une nouvelle peinture et un regarnissage de l'intérieur en cuir Connolly. Les propriétaires suivants l'ont scrupuleusement maintenue en excellent état en parcourant 24,000 kms au cours des 21 ans qui ont suivi cette restauration. La constance de ces soins explique son bon état actuel et, en réalité, elle pourrait passer pour une voiture récemment restaurée. Nous savons que la peinture est toujours en bon état et que l'intérieur montre une très belle patine sans craquelures. Le moteur qui a bénéficié d'un entretien régulier fonctionne très bien ; la sélection dans la boîte de vitesses s'effectue en douceur à toutes les vitesses et l'équipement électrique ne présente pas de défauts.

Le propriétaire actuel qui l'achetée en janvier 2011 le revend pour financer l'achat d'un modèle plus ancien. Le dossier comporte 60 pages de factures de travaux et la Ferrari est accompagnée de sa carte grise française en cours de validité.
Saleroom notices
Please note that since the catalogue has gone to press we have been advised by marque historian Marcel Massini that chassis no. 11799 offered here was delivered new by Franco-Britannic Autos in Paris and was subsequently exhibited at the 1968 Paris Salon on the Ferrari stand in 'Verde Scuro' with beige interior. Veuillez noter que depuis que le catalogue a été imprimé, nous avons été avisé par l'historien de la marque Marcel Massini que le châssis no 11799 offert ici a été délivré neuf à Franco-Britannic Autos à Paris et a été exposé au Salon de Paris de 1968 sur le stand Ferrari en 'Verde Scuro' avec intérieur beige.