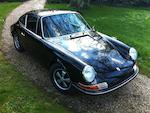 1970 Porsche 911E 2.2-Litre Coupé
Chassis no. 9110200374
Porsche's long-running and much loved 911 sports car first appeared at the 1963 Frankfurt Show as the '901' but shortly after production proper commenced in 1964 had become the '911' following Peugeot's complaints about the use of '0' model numbers. The preceding Type 356's rear-engined layout was retained but the 911 switched to unitary construction for the bodyshell and dropped the 356's VW-based suspension in favour of a more modern McPherson strut and trailing arm arrangement. In its first incarnation, Porsche's single-overhead-camshaft, air-cooled flat six engine displaced 1,991cc and produced 130bhp; progressively enlarged and developed, it would eventually grow to more than 3.0 litres and, in turbo-charged form, put out well over 300 horsepower.

The first of countless upgrades to the perennial 911 came in 1966, two years after production had commenced, with the introduction of the 911S. Easily distinguishable by its stylish Fuchs five-spoked alloy wheels, the 'S' featured a heavily revised engine producing 160bhp. Improved handling courtesy of a lengthened wheelbase arrived in 1969 and then in 1970 the 911's air-cooled, flat six engine underwent the first of many enlargements - to 2.2 litres. By this time the models on offer had stabilised at three: the 911T, 911E and 911S, all of which were available as either a closed coupé or Targa convertible. With the 2.2-litre engine's arrival, a common type of cylinder head was adopted, the differing power outputs being determined principally by valve timing rather than valve sizes as had been the case hitherto. First seen in 2.0-litre guise in 1969, the 911E was positioned between the entry level 'T' and top-of-the-range 'S', producing a maximum power output of 155bhp (DIN) in upgraded 2.2-litre form.

This beautiful Porsche 911E was extensively restored in 2010/2011 by GTSouvenirs of Saint-Brice-sous-Forêt in Northern France, there being related invoices on file totalling circa €20,500 for the works carried out, plus others for routine servicing and maintenance dating back to the mid-1970s. The restoration involved full disassembly of the bodyshell, repair of corroded areas, anti-rust treatment and complete repainting. A new dashboard, sunroof and bucket seats were installed, the interior totally restored, and the engine, transmission and electrics overhauled. The restoration was completed in May 2011 and the car is presented in commensurately good condition. Accompanying documentation consists of the aforementioned invoices, sundry restoration photographs, Liechtenstein Carte Grise and technical inspection.

Cette magnifique Porsche 911 E a été extensivement restaurée en 2010/2011 par GTSouvenirs à St-Brice-sous-Forêt en France comme en témoignent les factures du dossier qui s'élèvent à près de 20,500 € pour les seuls travaux plus celles relatives aux opérations d'entretien remontant au milieu des années 1970. La restauration a concerné le démontage complet de la caisse, la réparation des parties corrodées, le traitement antirouille et une peinture complète. Une planche de bord, un toit ouvrant et des sièges baquets neufs ont été installés, l'intérieur a été totalement restauré et le moteur, la transmission et le circuit électrique rénovés. La restauration a été achevée en mai 2011 et la voiture se présente dans un état remarquablement bon.

La documentation comprend les factures mentionnées ci-dessus, les nombreuses photos de la restauration, la carte grise du Lichtenstein et le contrôle technique.
Saleroom notices
Please note that TVA of 6% applies to this lot