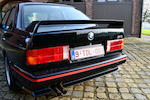 The ultimate and most desirable M3 variant
1990 BMW M3 Evolution 3 Sports Saloon
Chassis no. WBSAK07030AC78387
There had been expensive, limited edition M-Series models before the M3 but it was the latter's arrival that brought BMW's premier performance brand within the reach of less wealthy enthusiasts. The M3 resulted from BMW's need for a car suitable for Group A racing, the rules stipulating that 5,000 should be made in the first year of production. By this time (the early 1980s) BMW's single-overhead-cam slant-four engine would have been hopelessly outclassed on the racetrack so the required power increase was achieved by bolting on a 16-valve cylinder head. Bored out to 93.4mm, the Bosch fuel-injected M3 motor displaced 2,302cc and produced a class-leading 200bhp.

Although it looked pretty much like a standard E30 3-Series from a distance, the M3 shared only the bonnet with its less-exotic sibling. Most obvious difference was the wider front and rear wings while only the most observant would have noticed the more steeply raked rear window and raised boot, changes made in the interests of aerodynamic efficiency. Necessary chassis improvements included lowered and stiffened suspension, wider wheels, five-stud hubs, ventilated front brake discs, ABS and a limited-slip differential as standard. The gearbox was a five-speed close-ratio Getrag.
The M3 debuted at the Frankfurt Motor Show in September 1985 with deliveries of this exclusively left-hand drive model commencing a little over one year later. Magazine road tests were soon reporting top speeds of circa 140mph and a 0-60mph time of around 7 seconds, highly respectable figures even by today's standards. For the final, Evolution 3, version, the engine was stretched to 2.5 litres and produced 238bhp while other changes included adjustable front and rear spoilers, lowered front suspension and upgraded brakes.

Representing the ultimate and most desirable M3 variant, this Evolution 3 is equipped with the rare full leather interior. The car was delivered new to the Spanish BMW importer for his personal use and later sold to a famous Spanish tennis champion before coming to Belgium via a dealer in Spain.

Following a three-year cosmetic and mechanical restoration, the BMW is presented in beautiful condition, ready to celebrate its 25th anniversary in 2015. Noteworthy features include an engine bay strut brace, electric windows, Becker Mexico radio/cassette and its original alarm. The car is offered with valid Belgian Carte Grise and technical inspection.

Représentante de la dernière et de la plus désirable version M3, cette Evolution 3 est dotée du rare intérieur tout cuir. La voiture fut livrée neuve à l'importateur BMW espagnol pour son usage personnel avant d'être vendue à un célèbre champion de tennis espagnol puis d'arriver en Belgique via un négociant résidant en Espagne. Après trois ans de restauration de la mécanique et de la carrosserie, la BMW est présentée dans un état magnifique, prête à célébrer son 25e anniversaire en 2015. On notera aussi la présence d'une barre anti-rapprochement sous le capot, des glaces électriques, d'une radio-cassette Becker Mexico et d'une alarrme d'origine. La voiture est accompagnée de sa carte grise belge et de son contrôle technique.