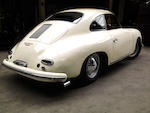 Mille Miglia eligible
1957 Porsche 356A 1600 Coupe
Chassis no. 100838
Engine no. 65921
Although Ferdinand Porsche had established his independent automotive design consultancy in the early 1930s, his name would not appear on a car until 1949. When it did, it graced one of the all-time great sports cars: the Porsche 356. The work of Ferry Porsche, the Type 356 was based on the Volkswagen designed by his father, Ferdinand and like the immortal 'Beetle' employed a platform-type chassis with rear-mounted air-cooled engine and all-independent torsion bar suspension.

Having commenced manufacture with a short run of aluminium-bodied cars built at Gmünd, Porsche began volume production of the steel-bodied 356 coupé at its old base in Stuttgart, at first in premises shared with coachbuilders Reutter and then (from 1955) in its original factory at Zuffenhausen. In 1951 a works car finished first in the 1,100cc class at the Le Mans 24-Hour Race, thus beginning the marque's long and illustrious association with Le Sarthe.

The first phase of development saw the 356's engine grow to 1.3 and then to 1.5 litres; the original split windscreen replaced by a one-piece; and a Porsche synchromesh gearbox adopted. 1955 marked the arrival of the restyled 356A, the newcomer being readily distinguished by its rounded windscreen and 15" - down from 16" - wheels. At the same time, a 1,600cc engine replaced the old 1.5-litre unit and would be standardised on the successor 356B model. In production until 1965, the 356 is where the Porsche legend began and good examples have long been prized by collectors.

This 356A Coupé was delivered new to North Dakota, USA, enjoying one owner there and another in Florida before returning to Europe. The current owner acquired the car earlier this year. Finished in Ivory with brown leather interior, '100838' was subject to partial restoration in 2006 while in the previous owner's possession and is presented in commensurate condition.

The car is offered with owner's handbook, US title deed, EU import papers, technical inspection and Porsche Certificate of Authenticity.

Ce Coupé 356 A a été livré neuf dans le Dakota du Nord (USA) où il a connu un propriétaire avant un autre en Floride avant de retourner en Europe. Le propriétaire actuel a acquis la voiture au début de cette année. De teinte ivoire avec intérieur en cuir brun, '100838', qui a fait l'objet d'une restauration partielle en 2006 alors qu'elle était aux mains de son précédent propriétaire, se présente donc dans un état des plus convenables avec son manuel d'utilisation, le reçu du titre américain, les documents d'importation en Europe, son contrôle technique et le Certificat d'Authenticité délivré par Porsche.
Saleroom notices
Please note that the car has no MOT as stated in the catalogue Veuillez noter que la voiture n'est pas accompagnée d'un controle technique comme mentionné au catalogue