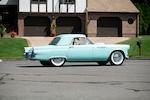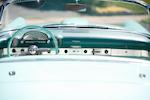 1955 Ford Thunderbird Convertible
Chassis no. P5FH134742
292ci OHV Y-block V8 engine
Single Holley four-barrel carburetor
193bhp at 4,400rpm
3-speed Ford-O-Matic automatic transmission
Front independent wishbone and rear live-axle leaf spring suspension
4-wheel hydraulic drum brakes

*Two owners from new
*Very well persevered and exceptionally original and correct
*A central Connecticut car its whole life
*Used as a 'benchmark' car for restorations and judging

The Thunderbird

Conceived to challenge Chevrolet's Corvette sports car, the classic Thunderbird convertible debuted in October 1954 for the 1955 model year and was one of the first models produced with Ford's new overhead-valve V8 engine. Introduced in two-seat 'personal car' form, the Thunderbird was intended to appeal to image-conscious younger customers, beating the Corvette hands down in the sales war thanks to its superior V8 engine and greater refinement. Its success took Ford by surprise: 16,000 were sold in the first year when a total of only 10,000 had been expected. Today the 1955-'57 Thunderbirds are among the most desirable and sought after of post-war American automobiles.

The Motorcar Offered

This Thunderbird Blue over Turquoise and White T-bird left the Dearborn, Michigan factory on December 29th, 1954 bound for Boston-area dealers. The 'bird was sold new to a woman in central Connecticut and thoughtfully enjoyed until it traded hands in the early 1980s to its current and second owner. Another careful steward of the car, the striking originality of the car has been fastidiously kept right down to the original Connecticut vanity plate, 'NOMI' under which the car is still registered as it has spent its whole life in the central Connecticut area.

The hard-to-find original details that are so often lost to restoration, use, and time are evident on this car. All of the original decals and labels are still in place and under the hood the drawn on production markers—meant to disappear over time—are still visible. A benchmark example of which the correctness of other Thunderbirds are now judged, it has been used as a rubric for restorations and concours competitions. Mechanically well kept, the transmission was overhauled less than 1,000 miles ago and a fresh set of whitewall radial tires from Coker shroud the original wheels. Inside and out the preservation of this car shines with the only blemish being a few cracks in the driver seat cushion.

With originality and correctness becoming more important factors to the collectability to cars, it is hard to fault this stunningly preserved example.
Saleroom notices
Please note that, due to PA law this title will need to be processed through the PA Department of Transportation and therefore may require up to 14 days for receipt.