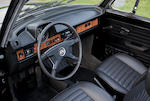 1979 Volkswagen Beetle 'Epilogue' Convertible
Chassis no. 1592039111
1,585cc air-cooled OHV flat 4-cylinder engine
Bosch Air Flow Control electronic fuel injection
48bhp at 4,100rpm
4-speed manual transmission
McPherson strut front and trailing-arm rear suspension
4-wheel drum brakes

*With the current owner since 1988
*Just over 13,500 original miles
*One of just 900 'Epilogue Edition' Beetles produced
*Among the last of the German-made Beetles

The Volkswagen Beetle

One of the 20th Century's truly great automobiles, the Volkswagen 'Beetle' spawned a host of derivatives, the longest enduring being the Cabriolet. A single prototype was built pre-war, but it was not until 1949 that the model entered production, the bulk of which was entrusted to Karmann of Osnabruck. Only the Karmann four-seater would stand the test of time, outliving the Beetle saloon by two years. The Cabriolet continued to be built at Osnabruck until January 1980, two years after German production of the saloon had ended.

The Motorcar Offered

The last of the German manufactured Beetles would be convertibles. Karmann produced the final car on January 10, 1980. During the final year of German production a Special edition Super Beetle was created dubbed the "Epilogue Edition." Each US dealer got one special edition convertible resulting in about 900 cars total. The cars where all triple black with white headliner in the tops and each got a special wood dashboard, factory installed radio, chrome antennae, factory air conditioning and the deluxe wheels.

The early history of this Bug is not known although it was reported to be initially owned by the wife of a major Philadelphia area car dealer. Used sparingly, the car accumulated a mere 6,000 miles in its first decade and only another 7,500 more after the current owner acquired it in 1988. The car was parked in dry indoor storage for seven years until it was removed and re-commissioned in spring of this year. Service completed included a fuel system cleaning, a replacement of fuel system hoses and other dried rubber parts, including new factory top rubber, a complete tune-up, a check of the brakes and a chassis and cosmetic detailing.

Very well preserved, the part numbers and date stamps on the brake drums are still clearly visible, the original exhaust components are still solid, the dealer installed rustproofing system still carries the markings to indicate the brand used, and even the owner's manual looks like new.

An excellent opportunity to acquire a well preserved, low mileage Beetle, the car is made that much sweeter by its unique 'last off the line' status and an Epilogue Edition.