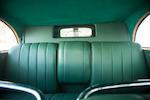 1947 Tatra T87 Sedan
Chassis no. 69324
Engine no. 222233
2,970cc SOHC air-cooled magnesium alloy V8 engine
Single downdraft carburetor
75bhp at 3,500rpm
Four-speed manual transmission
Independent front and swing-axle rear suspension
Four-wheel hydraulic drum brakes

-Offered from a Private Collection
-Iconic Ledwinka design
-Extensive restoration

The T87 Sedan

The name of Tatra is forever linked with that of Hans Ledwinka, one of the most original engineers ever to turn his attention to automobile design. Tatra's chief engineer, Ledwinka began experimenting with the application of low-drag aerodynamics to passenger car design in the early 1930s in collaboration with his colleague Erich Übelacker and Zeppelin aerodynamicist, Paul Jaray.

In 1934 the first of Tatra's 'aerodynes' appeared; this was the T77, the world's first series-produced car designed with aerodynamic efficiency as the foremost consideration. Tatra's advertising hailed it as 'the car of the future', and when compared with its contemporaries the T77 must have looked like it had come from another planet. Just as advanced beneath its streamlined skin, the T77 featured Ledwinka's trademark, independently-suspended backbone chassis and was powered by a 3.0-liter air-cooled V8 engine mounted at the rear, while the extensive use of magnesium alloy for the engine, gearbox, suspension and body kept the weight down to 1,700kg (3,700lb). Although its 60bhp engine was relatively modest in output for a large, six-seater, luxury car, the T77's staggeringly low drag coefficient of around 0.21 meant that it was still capable of reaching 145km/h (90mph). A conventional car would have required twice as much power. In 1934 the T77 was superseded by the T77A, which benefited from a 3.4-liter engine and higher (150km/h) top speed.

Although the T77 was fast, economical and comfortable, the handling had sometimes come in for criticism. Introduced in 1936, Ledwinka's response was the T87, which was both shorter and lighter than the T77. Powered by a 3.0-liter V8, the T87 was good for a top speed of 160km/h (100mph). The model resumed production after WW2 and was produced up to 1950, by which time a little over 3,000 had been sold.

One of Europe's oldest car makers, the Czech firm of Tatra dates back to 1850 and has carried a reputation for technical innovation thanks largely to the fertile mind of talented Austrian engineer Ledwinka. The T87 is one of the most advanced cars of the pre-war period and was well ahead of its time, combining streamlining with a radical layout that heavily influenced Dr. Ferdinand Porsche's design of the Volkswagen Beetle. In fact the similarities were so blatant that Tatra subsequently sued the German company for infringing 11 different patents. The aerodynamic exterior, incorporating a 'cyclops' third headlamp, rear fin and full unibody construction with belly pan, allowed the T87 to cruise the new highways of Europe at speeds approaching 100mph.

Beneath the stylish coachwork, the Tatra was powered by a rear-mounted 2.9-liter magnesium alloy, air-cooled overhead-cam V8 producing 85 horsepower. Suspension was fully independent, with hydraulic brakes. The luxurious Tatra was an expensive car when new but did sell in relatively impressive numbers, with just over 3,000 built between 1936 and 1950. Very few Tatras have ever made it to the United States and there are an estimated ten T87s in the country today – one example can be found in Jay Leno's suitably eclectic Big Dog Garage, one graces the foyer of Peter Mullin's spectacular museum (the only non-French marque exhibited there). Other noted owners have included Ernst Heinkel, Felix Wankel, Erwin Rommel, John Steinbeck, King Farouk of Egypt and Sir Norman Foster.

The Motorcar Offered

Long desired by the current owners, this example was sourced in Canada in somewhat dilapidated condition by North American marque specialist Alex Veronac. A comprehensive restoration commenced with him in Canada and then continued and finished in the U.S. at Burnham's Garage in Delanson, New York. This included refurbishing the bodywork in the original green livery and renewing the interior upholstery with matching green leather, overhauling the mechanics and sourcing any missing detail parts. All told the costs of restoration were some $150,000. Since its rebuild the car has been lightly exercised and in doing so has gained a little age. It should also be noted that its cabin is not carpeted.

At the time of cataloguing and photography, the Tatra was exercised and proven to be 'on the button' and eminently usable. For the precise gearshift and responsive performance, let alone the head turning it creates, it is certainly an enjoyable driving experience.

Unquestionably one of the truly iconic and most influential automobile designs of all time, this is a rare opportunity to acquire a T87.
Saleroom notices
Please note that the title for this vehicle is in transit