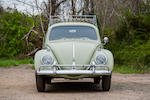 1960 Volkswagen Beetle 2-Door Sedan
Chassis no. 3084015
Engine no. 3865603
1,192cc OHV Flat 4-cylinder engine
Single Solex Carburetor
c. 55bhp at 5,000rpm
4-speed manual transmission
4-wheel Independent suspension
4-wheel drum brakes

-Beautifully restored
-Upgraded with Judson Supercharger
-Period color-combination
-Installed with period correct radio
-Charming example the iconic Beetle

The Volkswagen Type 1 "Beetle"

The Volkswagen's layout was the essence of practicality. The platform backbone frame was simple to build and adaptable, the rear mounted engine left the entire volume between the wheels free of obstructions and mated directly to the transaxle which eliminated the driveshaft. Porsche's favored trailing arm independent front suspension with transverse torsion bar springs imposed little upon the internal volume and the swing axle rear suspension coped with the typically rough roads of the day. Porsche preferred an air cooled engine because it eliminated the whole water cooling system of pumps, pipes, hoses and radiators as well as eliminating the risk of freezing in cold northern winters. From the late Fifties through the early Seventies Volkswagens sold in hundreds of thousands in the United States, peaking at 572,573 in 1970. In 1973 the Beetle surpassed the Model T's 21 million unit total production and has continued to add to its margin for a further quarter century.

The Motorcar Offered

This benchmark example of the Volkswagen icon, dating from 1960, benefits from having had few owners and appears to have been spared of wet climates for most of its life. The previous owner elected to use that as a sound basis for a full 'pan-off' restoration in 2009, during which the car was painted to the period style livery of Java Green, a color which suits the car well. Chrome, glass, wheels and tires are all reported to be in excellent condition today, as is the interior which features a period Sapphire Radio. The Judson Supercharger is professionally restored with period Judson VW air cleaner and Ampco oiler. The motor has been rebuilt, the electrics attended to, which are to the correct original 6 volt specification. Recent mechanical service by VW specialist Stan's Classic Service of Natick, MA has been completed; a description of the work performed is included. Completing the package is a luggage rack, tool kit, original owner's manual, period brochures and accessory catalogs.