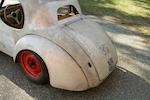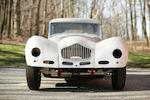 1950 Allard K2 Coupe
Chassis no. 91K 774
The only K2 Coupe built alongside 118 K2 Roadsters
Thought to be Allard's 1950 New York Auto Show car
Fresh race-prepped Cadillac 406 cubic inch V-8
Rare Horne aluminum intake manifold fitted with four Stromberg 97 carburetors from General Curtis LeMay's Allard race car

-Extensive documentation
-More thrills-per-dollar than almost any car you can name
-Sure to star at concours, rallies and vintage races worldwide

The Allard K2

A London Ford dealer in the Thirties, larger-than-life Sydney Allard built lightweight specials powered by hot-rod Ford V-8 or Lincoln V-12 engines. In 1945, he incorporated Allard Motor Company and introduced a full line of high-performance cars. The J is a two-seat racing car built on a "short chassis" with 100 inch wheelbase. Allard's 112 inch wheelbase "long-chassis" came with a choice of bodywork: K is a two-seat roadster intended for road use that can also be successfully raced, L is a four-seat tourer, M is a four-seat convertible with roll-up windows, P is a four-seat, two-door sedan.

Allard running gear was mostly Ford, coupled with lightweight aluminum bodywork. While cars sold in Britain came with flathead Ford or Mercury V-8s, most were shipped to the U.S. without engine or transmission. A hot-rodded 268 cubic inch Mercury V-8 was usually the "base" engine. The new overhead-valve Cadillac V-8 or Chrysler Hemi fit in the same space and provided far more horsepower. Allard built only 1900 machines in 14 years, before stopping production in 1959.

The Motorcar Offered

This unique Allard is the only K2 Coupe built. It is thought to have been shown at the 1950 New York International Auto Show. Owners have included well-known Allard collectors and vintage racers including George Garrett, Gentry Smith, Chris Leydon, Dan Lowery, Dr. Tom Turner and Rich Taylor. Tom Lalinsky Engineering of Red Hill, PA built the 406 cubic inch Cadillac V-8, driving through a beefed up Turbo Hydramatic transmission and Dana 60 rear axle. A traditional four-spoke Motolita steering wheel promises thrilling performance.

Despite Allard's reputation for crude engineering, this K2 features independent front suspension, a live rear axle with four trailing arms and Panhard Rod, coil springs, hydraulic shock absorbers, huge Alfin drum brakes and strong Ford truck wheels. After a thorough but straightforward restoration, this one-off Allard will be welcome at any vintage race, concours or rally in the world.
Footnotes