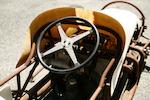 1959 USAC Champ Car
327ci OHV Chevrolet V-8 engine
Single four-barrel carburetor
275bhp (est)
Three-speed plus reverse gearbox
Live axle suspension with transverse leaf spring suspension
Four-wheel hydraulic disc brakes

-Legal for every vintage oval and road racing group
-Easy restoration, inexpensive to maintain and race
-Attributed to famous car builder Lujie Lesovsky
-Fitted with a Halibrand "Quick-Change" differential and Halibrand "Bean Hole" magnesium wheels

The Champ Car

The AAA and later USAC National Championship consisted of the Indy 500 plus dozens of oval track races on both pavement and dirt. The Big Cars of the Thirties and Forties evolved into the upright Champ Cars of the Fifties and Sixties. These were created by legendary names like Frank Kurtis, A.J. Watson, Floyd "Pop" Dreyer and Lujie Lesovsky, and look just like every schoolboy's dreamy sketch of a racing car. By the late-Fifties, teams typically ran an expensive Offy four-cylinder at Indy, then small block Chevrolet V-8s on the smaller ovals because the V-8s were not only less expensive to buy and maintain, but offered more torque out of the corners.

The Motorcar Offered

The Champ Car on offer is attributed to Lujie Lesovsky and dated to 1959. A back-up car that was never completed or raced, it has a tubular space frame, Halibrand "Quick-Change" differential with a selection of gear ratios, Halibrand "Bean Hole" magnesium wheels, period disc brakes, tubular shock absorbers and fiberglass bodywork. The selection of authentic parts alone are worth more than the asking price!

Unlike many USAC cars of the Fifties, this purposeful-looking machine also has a starter and 3-speed transmission instead of an "in and out" box. The engine currently fitted is a 327 cubic inch V8 from a 1968 Camaro, but for vintage racing, the car can authentically be equipped with virtually any Chevrolet small block and a 4-speed Borg-Warner transmission. Imagine this 1500 pound car with 600hp and modern race tires at Lime Rock. Quelle blast!
Footnotes