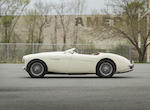 1955 Austin-Healey 100 BN1 Two Seater Sports
Engine no. 1B221424M
Body no. 49655404
2,660cc OHV Inline 4-Cylinder Engine
2 SU Carburetors
90bhp at 4,000rpm
3-Speed Manual Transmission with Overdrive
Independent Front Suspension - Live Rear Axle
4-Wheel Drum Brakes

-Welcomed entrant to many rallies and driving events
-Desirable original BN1 model
-Recent engine rebuild
-Popular model for road tours

The Healey 100

Donald Healey's stylish Austin-Healey 100 caused a sensation when it debuted at the 1952 London Motor Show. Intended as a low-cost high-performance sports car and aimed at the US market, which took almost 100% of production initially, the Austin-Healey 100 sourced its major components from the Austin Atlantic saloon. Low-revving and torquey, the latter's 2,660cc four-cylinder engine produced an unremarkable 90bhp, but when installed in the lighter and more streamlined Healey the result was a genuine 100mph-plus car capable of reaching 60mph in under 11 seconds. A three-speed gearbox equipped with overdrive on the top two ratios was an unusual feature of the original BN1, which was superseded by the short-lived, conventional four-speed BN2 for 1956. In 1953 a team of drivers including Donald Healey and George Eyston set a host of international and AMA speed records at Utah's Bonneville Salt Flats driving two Healey 100s.

Highlights including a maximum speed of 143.626mph and 1,000 kilometres at an average of 127.00mph achieved by the tuned car and 24 hours at an average of 104.3mph set by the AMA-selected 'off-the-showroom-floor' example. A muscular sports car to delight the purist, the 100 was not bettered by its six-cylinder successors in terms of outright performance until the introduction of the Austin-Healey 3000 in 1959.

The Motorcar Offered

The 100 here offered is ostensibly a good original straight example of the marque. At some point in its journey this far, the car has lost its original firewall plate which would identify its precise origins, but as with many today it takes its identity from the body number. Both the motor and the automobile itself tally with original BN1 specification and to judge from the condition of the car generally, it seems unlikely that this is anything other than a stock BN1.

In prior ownership, the engine has been redone and the car is reported to be running very strongly. Clearly an older restoration, with tidy paint and upholstery, there are no rips, tears, dents, or significant scratches and it is complete with a top and tonneau cover. In the present custody, the brakes have been redone, and fluids replaced. In servicing and attending to the car it was noted that the floors have been replaced, and there has been some interior body damage which has been repaired, quite possibly as a result of light corrosion incurred its 55 year plus existence. Of particular charm is the trunk compartment which retains its original matting, as well as jack, hammer and some tools.

Continuing to grow in popularity these early Healeys with their iconic trapezoid grille and sporting laydown windshield, look like they're whistling along even when standing still and provide potential entry for the numerous Mille Miglia retrospectives around the world.
Footnotes
Saleroom notices
Please note that the title for this vehicle is in transit