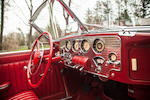 1936 Cord 812 Phaeton
Chassis no. 1206H
Engine no. FB2866
289ci Lycoming flathead V8 engine
Single FE15 Stromberg Carburetor
125bhp at 3,500rpm
Four-speed Bendix Finger-Tip Gear Control pre-selector electric manual transmission
Independent front suspension and live rear axle with semi-elliptical leaf springs
Four-wheel hydraulic drum brakes

-Timeless, Gordon Buehrig design
-Innovative front-wheel drivetrain
-Restored about two decades ago
-CCCA Full Classic™

The 810

One of the few automobiles deemed worthy of inclusion in the Museum of Modern Art in New York and arguably the most easily recognized American car of all time, the Cord 810 debuted in November 1935, receiving a rapturous reception at US automobile shows. The work of a team headed by Duesenberg designer Gordon Buehrig, the 810 body style with louvered 'coffin' nose, streamlined, spat-shaped wings and absence of running boards would prove immensely influential, its distinctive features being borrowed by most mainstream manufacturers by the decade's end.

The 810's arrival marked the end of a hiatus in Cord production, its predecessor - the L29 - having disappeared in 1931. Errett Lobban Cord had introduced the latter in 1929 as a gap-filling model priced between his Cord Corporation's Auburn and Duesenberg lines. Powered by a Lycoming straight eight, the Cord L29 featured front wheel drive, a chassis layout then in vogue at Indianapolis. Its front-drive layout made for a low-slung frame, and the freedom this gave coachbuilders meant that the Cord was soon attracting the attention of master craftsmen on both sides of the Atlantic.

A front-wheel-drive car like the L29, the 810 differed from its predecessor by virtue of its more compact Lycoming V8 engine and Bendix four-speed, pre-selector gearbox. Set further back in the chassis, the former endowed the 810 with better balance and came with 125bhp in standard trim or 170bhp when supercharged.

Custom sedans on a longer wheelbase joined the four-model 812 range for 1937. Priced competitively in the $2,000-3,000 range, the 810/812 should have been a huge success, though, sadly, this was not to be. The Cord Corporation was in deep financial trouble, and when its proprietor sold up in August 1937, it spelled the end not just for Cord, but for Auburn and Duesenberg as well. At the close, a little fewer than 3,000 810/812s had been made.

The Motorcar Offered

The Phaeton offered here for sale is extremely presentable condition for a restoration that must date from 20 or more years ago. All the same, for the most part its Palm Beach Tan livery is very clean and save for a few small areas of sinkage is perfectly serviceable, the Maroon interior appears to be complete and again while not new, has seen only modest wear and presents well. Beneath the hood is a tidy and complete engine bay.

Unquestionably one of the most distinctive designs ever to grace an automobile, the Cord in Phaeton form can be enjoyed by friends and family.