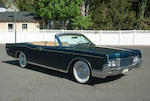 1967 Lincoln Continental Convertible
Chassis no. 7Y86G819355
462ci OHV V8 engine
Single Carter four-barrel carburetor
340bhp at 4,600rpm
3-speed Turbo Drive automatic transmission
Independent front suspension and semi-floating rear axle with parallel leaf springs
Four-wheel power-assisted hydraulic drum brakes

-Offered from a Private Collection
-Iconic Kennedy era design
-Ingenious power top mechanism

The Lincoln Continental

By the mid-1960s, Lincoln had clawed its way back to the top of the American luxury market, where it fought a steady battle with General Motors' Cadillac Division. Although the design of the Lincoln Continental had been largely unchanged since the debut of the 1961 models, it had aged exceedingly well. The chassis had added a couple of inches in the wheelbase, the nose, hood and grille had seen some gentle modifications and trim had also changed a bit.

The buying public didn't seem to think the Lincoln was old hat, because Ford's luxury division still managed to sell about 55,000 units, divided between coupes, sedans and the ever popular four-door convertible. The 1966 models used a massive 462cid overhead-valve V8 rated at a muscular 340 horsepower. All new Lincoln Continentals came with automatic transmissions, power steering, power brakes, power windows, power seats, remote mirrors and a host of other luxury features. Although air conditioning was an extra cost option, more than 93 percent of the cars were fitted with it from the factory, while 97 percent of the cars left Dearborn with tinted glass.

The Motorcar Offered

Decoding the car's body tag confirms that this 1967 Lincoln Continental left the Wixom plant on November 28th 1967 and was as it is now in the scheme of Dark Green Metallic paint, with a medium saddle leather interior. It was supplied originally to New York State.

The Convertible arrived in the present New Jersey ownership some years ago and has been regularly used and maintained throughout this time. Most recently, attention was paid to the brakes in 2010. Upon close inspection, the car shows some signs of age and use particularly to the paintwork. It is currently road registered though, runs and drives and the top mechanism, a work of art in itself, and is reported to be in good working order.
Saleroom notices
The production date of this car is November 28th, 1966, not 1967. Furthermore, it is equipped with front disc brakes and rear drum brakes.