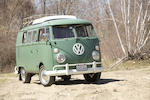 1967 Volkswagen Type 2 Westfalia Deluxe Camper with matching Westfalia Trailer
Chassis no. 247144598
Engine no. C718N4A2
1,493 cc ohv, air-cooled flat-four cylinder engine
Single-throat Solex downdraft carburetor
53hp at 4,200rpm
4-speed manual transmission
Front disc, rear drum hydraulic brakes
Torsion bar independent front and rear suspension

-Rare original Westfalia Deluxe Camper
-Seldom-seen matching Westfalia trailer
-Nearly every option
-Exceptional original condition

The Westfalia Camper

Although not as ubiquitous as the iconic Type 1 Volkswagen Käfer (Beetle), the Type 2 Transporter took on far more divergent identities. Built as a van, both with and without rear side windows, it came also as a pickup or a fully-equipped camper, and countless aftermarket conversions were created as hearses, ambulances, police vans and use in the fire service. During the 1960s, the Kombi version, a window van with removable seats, became the transportation of choice for America's hippies, often with psychedelic paint themes.

The Type 2 concept is credited to the Dutch importer, Ben Pon. His first sketches date from 1947, but production had to wait until March 1950, as VW caught up with demand for the basic Beetle. Since 1980 it has been built in Brazil only, now with a water-cooled engine. Production there is scheduled to end this year.

Starting in 1951, VW offered an officially-sanctioned camper conversion by Westfalia-werke of Franz Knöbel & Söhne in Rheda-Wiedenbrück, Germany. Interiors were paneled in birch plywood, and standard equipment included screened jalousie windows, a laminated folding table, storage cabinets, an ice box and electrical hookups. Some models included a sink and pressure water system. A number of fold-out seat arrangements provided sleeping accommodation. Optional equipment included a pop-up roof section, awnings and side tents, a chemical toilet, camping equipment, a child's crib in the driver cab and a small map table.

The Motorcar Offered

This 1967 Westfalia Deluxe Camper comes complete with a matching 1968 Westfalia trailer, a very rare and seldom-seen accessory. Rarer still is the Volkswagen "Y" full-undercarriage trailer hitch.

This camper came from Santa Monica, California where its former owner
enjoyed the car for the last seven years, driving it around Southern California and camping with his family.

This particular van has been upgraded with front disc brakes. It has nearly every option available for a "Westy," including pop-up roof, a side tent, water dispenser, pop-out front windows, side window wind wings, roof rack, and the original tool kit. It has a period-correct pushbutton Sapphire XI radio, accessory side step, front seat belts and VW mud flaps, and comes with period luggage and a picnic basket.

All interior wood work, material, cabinets and refrigerator are original and correct. The engine shows evidence of having been fully rebuilt, and mechanically the vehicle performs as new.

Because of their cult popularity in the 1960s, Type 2 Volkswagen vans typically saw hard use and infrequent maintenance. They were driven hard, treated poorly and often crudely modified. Thus, unmolested, well-preserved originals are rare, and Westfalia Campers fewer still. The Westfalia trailer is almost unheard of. This pair represents a very uncommon opportunity indeed.
Footnotes