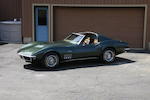 1969 Chevrolet Corvette Stingray "T-top" Coupe
Chassis no. 194379S704440
Engine no. 18S410508
427ci OHV V8 engine
Single four-barrel carburetor
390bhp at 5400rpm
Four-speed manual transmission
Fully independent rear suspension
Four-wheel disc brakes

-Garage-kept for over 10 years of ownership
-Recent repaint
-Chrome in perfect condition
-Headers and electric cooling fan added

The Stingray Coupe

When the C3 Corvette made its debut for the 1968 model year, it was the wildest car to hit the street since the Lamborghini Miura. Patterned after Bill Mitchell's and Larry Shinoda's 1965 Mako Shark II, the new Corvette was the culmination of 1960s Coke-bottle excess but underneath it was the same Corvette as before. One notable mechanical improvement was the introduction of the three-speed Turbo Hydramatic replacing the two-speed Powerglide automatic. While the press wasn't too kind to the new Corvette (with particular criticism on the car's fit and finish) the public set a sales record.

Chevrolet engineers addressed many of the criticisms to make the 1969 Corvette a better car. The big news was a 350 replacing the 327, now in 300- and 350-horsepower tunes. For the Big Block 427 there were five choices, from the L36 with 390 horsepower to the aluminum ZL1. The press and the public appreciated the tweaks to the tune of a record-breaking 38,762 built.

The Motorcar Offered

This Fathom Green with Saddle vinyl T-top coupe is perhaps the quintessential 1969 Corvette: this was the first time the coupe outsold the convertible, Earthtone colors were the trend at the time, plus there's a Big Block 427 between the front wheels. With headers the latter puts out more than the rated 390 horses.

Owned for the past 10 years, it has been garage-kept, carefully maintained, and has received a recent high quality repaint that shows quite well. Delivered new with a Big Block, the current motor fitted is from '68 but is otherwise virtually identical to the one with which it left the factory, save for the number. New headers, MSD ignition, and a K&N air cleaner all hint to the fact this 'Vette was made to run. New-for-1969 TJ2 front fender louver trim completes the look – all that's needed is a driver with an itchy trigger finger.
Saleroom notices
Please note the title for this vehicle is in transit