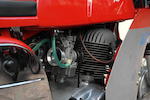 1973 MV Agusta 349cc
Frame no. 21301549
Engine no. 21301648
Introduced at the Milan Show in 1971, MV's first production 350 roadster was an over-bored version of the existing 250 model that had been around since 1967. Of unitary construction, the 349cc engine was a twin-cylinder, overhead-valve unit featuring geared primary drive and a five-speed transmission. Claimed maximum power was 32bhp and the top speed in excess of 90mph. Two versions were made: the touring 350GT and sports 350B, both of which were updated with 12-volt electrics and electronic ignition in October 1972. They were replaced by restyled 'square case' equivalents for 1975. This 'racerised' 350 MV was restored approximately one year ago, the engine having been rebuilt two years previously. Noteworthy features include high-compression pistons, special camshaft, 30mm Dell-Orto carburettors and megaphone exhausts. The machine is described as in generally good condition and offered with Italian libretto and Certificato di Proprieta for export. No reserve.
Saleroom notices
Since going to press we have been advised by the vendor that this motorcycle was acquired in 1994 by the Voltarel brothers, Yamaha and Ducati dealers in Italy. After one of them died, the machine was restored around ten years ago by the surviving brother (now dead also). The fairing, fuel tank, seat and various others components have been re-sprayed, but the paint on the frame is original. The engine has not been used since being fully rebuilt. An internal inspection (through the spark plug hole and inlet manifold) has been made by the vendor, who confirms that all visible components appear new. All refurbishment was carried out in the Yamaha/Ducati dealership's workshop. The current owner bought the MV from the last owner's widow in February of this year, and advises us that the odometer reading of 27,000 kilometres (approximately 16,700 miles) is believed genuine. The engine is currently 'dry' and the machine will require servicing and the customary safety checks following its lengthy period of post-rebuild inactivity.