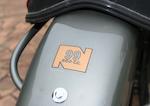 1959 Norton 600cc Dominator 99
Registration no. 189 FMB
Frame no. P14 77605
Engine no. P14 77605
Norton's 500 twin appeared in the racing singles' Featherbed frame in November 1951. Initially for export only, the Dominator Model 88 was the first production Norton to feature the lightweight, race-proven chassis. Introduced for 1956, the 596cc 99 was outwardly identical to its smaller brother. Though endowed with greater power and higher gearing which enabled it to top the magic 'ton', the 99 retained all the excellent handling and steering characteristics associated with the Featherbed chassis. The model remained essentially unchanged - apart from gaining alternator/coil-ignition electrics for 1958 - until dropped in 1962. A hand written note on file dated 27.6.95 from the fourth owner, one John Joseph Meade, provides strong evidence that '189 FMB' has not been used on the road since 1962. Mr Meade recounts how he bought the Norton in September 1979 and took two years to complete its restoration. It had not been used since the rebuild when he sold it to the vendor's late father in July 1995. The current odometer reading is only 2 miles, which - presumably - is the distance covered since the rebuild. Kept in storage since its acquisition in 1995, '189 FMB' will require re-commissioning following long term storage. The machine is offered with its original old-style logbook, first owner's notes and old/current Swansea V5/V5C documents.