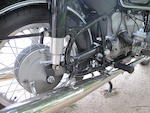 Powered by an R100/7 motor
1967 BMW 980cc R50/2
Frame no. 1810573
Engine no. 6170446
Having concentrated on refining what were essentially pre-war designs, BMW was ready with a brace of new machines by 1955: the R50 and R69. Of 494cc and 594cc respectively, the newcomers inherited the up-dated flat-twin engine introduced on the R51/3 a few years previously but deployed this in all-new cycle parts featuring an Earles-type leading-link front fork and swinging-arm rear suspension enclosing the driveshaft in the right leg - developments first seen on the works racers. In August 1960 an entirely new and much improved engine was announced, the '500' continuing thereafter as the R50/2 and the '600' became the R69S. This R50/2 combines the elegantly traditional good looks of 1960s BMWs with the power afforded by a more modern R100/7 engine dating from 1979, which with 59bhp on tap has more than double the maximum output of the original. Undertaken during 2006/2007 for previous owner Chris Bond by Bavarian Cream Restorations (Larry Junge) of Boring, Oregon, the conversion included fitting the front fork and twin-disc front brake from an R90S together with instruments, handlebar controls and mirrors from a modern BMW. Since acquiring the machine the current owner has spent some €1,700 on re-commissioning it and advises us that it is now running very well. Combining classic style with modern power, reliability and convenience, this unique BMW hybrid is offered with sundry restoration invoices, and US Certificate of Title.