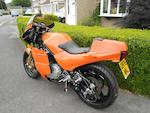 1980/1986 Harris Magnum II Laverda Mirage 1200
Registration no. Q808 WNL
Frame no. HP754
Engine no. 2824
The machine offered here started life as a Laverda Mirage TS purchased a new in June 1980 from TT Motor Cycles Ltd in Sunderland by one Brian Hair (invoice on file) and first registered on 1st August of that year. During the winter of 1985/1986, the engine was sent to marque specialists Motodd (Phil Todd) to be stripped, tuned and rebuilt (see detailed list and invoice). In 1986 Mr Hair purchased a Harris Magnum II frame kit from Windy Corner Motorcycles (Roger Winterburn) and built a new bike using the Motodd-tuned engine. Harris made fewer than ten of these 'full loop' frames for Laverdas, the original open-cradle type having proved insufficiently rigid.

As the build progressed over the next few years Mr Hair also bought a new set of Marzocchi M1R front forks and new Brembo brakes from Slater Laverda (bills available). In March 1990 the completed machine was MoT'd (at 5,009 kilometres – 3,111 miles) and registered as 'Q808 WNL'. After a handful of 'shakedown' miles had been covered the Laverda was placed in storage, remaining there until May 1997 when it was sold to one Carl Hunt. Unfortunately, Mr Hunt was taken ill soon afterwards and the machine saw little use. Sold to the current owner in December 2009, it was stored until 2011 and then sent to the Harris factory in Hertfordshire to have a new set of forged PVM Dymag-style 18" wheels fitted to replace the original Laverda items. Inspected by the Harris brothers (Steve and Lester), the machine was and also fitted with a new fully adjustable Nitron shock absorber; a new drive sprocket to suit the PVM wheels; and a pair of Avon Sport tyres.

Carried out in 2012, subsequent re-commissioning included cleaning and balancing the carburettors; renewing the hydraulic fluids; rebuilding the rear brake master cylinder; checking cam chain tension and valve clearances; changing the engine oil; and fitting new batteries and spark plugs. Described as in generally excellent condition, this rare 1980s 'superbike special' is offered with Laverda owner's manual, numerous invoices, current MoT certificate and Swansea V5C registration document.
Saleroom notices
It should be noted that the engine specification includes a 180-degree crankshaft and not the 120-degree item as used in some three-cylinder Laverda models.