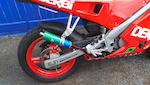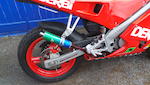 Never registered; 40 miles from new
2000 Derbi 80cc GPR50
Frame no. UTHGPRRABYH-145904
Engine no. C1 - 1102
The name 'Derbi' first appeared in the early 1950s on a motorcycle built by Nacional Motor SA of Barcelona, Spain. The latter company was an offshoot of Bicicletas Rabasa, one of Spain's largest cycle manufacturers that had been founded by Simeon Rabasa Singla in the early 1920s. Its first powered two-wheelers were marketed as 'SRS' (the founder's initials) but soon took the name 'Derbi' (from the phrase, 'derivados de bicicletas'). Derbi remained little known outside Spain until Angel Nieto took the World 50cc Championship in 1969, a feat he repeated for the Spanish marque in 1970 and '72 in addition to taking the 125cc title for them in 1971 and '72. Lightweight motorcycles and mopeds, particularly the 50cc category, had always accounted for the bulk of Derbi's business, hence its concentration on these classes in road racing. Since 2001 the company has been a subsidiary of the Italian Piaggio group. Fitted with a non-standard cylinder, cylinder head and piston (increasing the capacity to 80cc) this Derbi GPR50 sports moped has formed part of the Luke Lawlor Collection from new. The machine has never been registered for the road and displays a total of only 40 miles on the odometer. There are no documents with this Lot.
Saleroom notices
The engine number is faired in and not visible. As this vehicle qualifies as a New Means of Transport, VAT at the current rate will be payable by the buyer to HMRC.