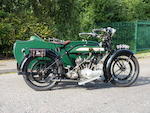 1923 BSA 770cc Model E
Registration no. DS 9561
Frame no. A1792
Engine no. 6646
The first motorcycles made by the Birmingham Small Arms Company in the early 1900s used proprietary engines such as the Belgian Minerva, and it was not until 1910 that the firm introduced a BSA-designed and built machine. The first model to feature the marque's distinctive green and cream tank colours was a 499cc side-valve single, which was soon complemented by a 557cc long-stroke version. The firm's first v-twin - the 770cc (6/7hp) Model E - appeared late in 1919 and would prove the forerunner of a long line of rugged and dependable 'sidecar tugs'. A larger, 986cc version debuted as the Model F in 1922 and would continue in production as the Model G, regularly revised and updated, until 1940. Vintage-style family motorcycling does not get better than this: a powerful 770cc twin-cylinder motor and rugged three-speed gearbox carried in a well built heavyweight frame and tugging a substantial sidecar complete with luggage compartment and full weather screens. Carried out between 1999 and 2005, its no-expense-spared restoration has resulted in a glorious motorcycle combination capable of transporting the rider and two companions in comfort and style. The machine is offered with parts list, instruction manuals, Swansea V5C document and a quantity of old tax discs and MoT certificates (most recent expired September 2011).