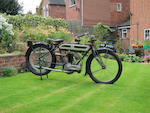 1915 Triumph 4hp Type D TT Model
Registration no. BB 3451
Frame no. 263051
Engine no. 37982
The first Triumph motorcycle of 1902 used a Belgian Minerva engine but within a few years the Coventry firm was building its own power units. This first engine was not without its weaknesses, as was the frame in which it was installed, but these shortcomings were soon sorted and within a couple of years 'Triumph' was a byword for reliability. The famous 3½hp model first appeared in 1907. Originally of 453cc, its sidevalve engine was enlarged to 476cc in 1908 and finally to 499cc in 1910 before being superseded by the 4hp model in 1914. Between them, the vendor and the previous owner have ridden this restored 1915 Triumph at a variety of events and locations including the Irish International, Schleize Vintage race-parade, Shetland, Yorkshire, Lancashire, East Anglia, Isle of Wight, Czech Republic and Grossglockner, and around the Midlands. It was also used on the VMCC training weekend at Gaydon in 2013 to the delight of some lucky riders. In the vendor's own words: 'This bike is a reliable, easy starting, fast and comfortable single-speed, direct belt drive package of excitement.' 'BB 3451' has been regularly maintained and benefits from a new rear hub and valves. The machine is offered with associated literature, assorted email correspondence, Swansea V5C document and a quantity of old tax discs and MoTs (most recent expired August 2012).
Saleroom notices
The engine number is TFC 51237982.