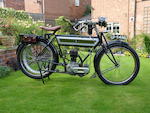 1913 Triumph 3½hp TT Model
Registration no. SP 5496
Frame no. 214565
The first Triumph motorcycle of 1902 used a Belgian Minerva engine but within a few years the Coventry firm - originally a bicycle manufacturer founded by German immigrants Siegfried Bettman and Maurice Schulte - was building its own power units. The first of these - a 298cc single-cylinder sidevalve - arrived in 1904. This first engine was not without its weaknesses, pistons and bores wore out quickly and the curious 'tandem down-tube' frame in which it was installed broke, but these shortcomings were soon sorted and within a couple of years 'Triumph' was a byword for reliability. The famous 3½hp model first appeared in 1907. Originally of 453cc, its sidevalve engine was enlarged to 476cc in 1908 and finally to 499cc in 1910 before being superseded by the 4hp model in 1914. A belt-driven model equipped with the Philipson Pulley variable gear, this Veteran-era Triumph was restored around 20 years ago by Harry Fleming, who acquired the machine from a young lad who had been given it by a lady clearing out her late father's home (see Harry's account on file). The machine is offered with three old tax discs, expired MoT (2009) and Swansea V5C document.
Saleroom notices