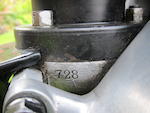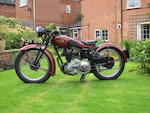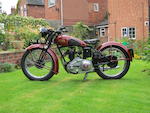 1937 Rudge 245cc Rapid Sports
Registration no. CRH 978
Frame no. 59218
Engine no. A728
Motorcycle manufacturers from 1910 to 1939, Rudge were renowned for their championing of the four-valves-per-cylinder engine layout, employing it for the first time on a 250 in 1932. The Rudge 250 was unusual for its day in having coil rather than magneto ignition, though the latter became optional later. A two-valve Tourist 250 joined the range for 1935; becoming the Rapid the following year when the model adopted the marque's characteristic coupled brakes. With the deletion of the four-valver, the Rapid became the sole 250 (a Sports version with high-level exhaust was added for 1938) and the only Rudge to retain the left-side gear pedal to the end. Following a lengthy restoration, this Rapid won the inaugural 'Bryan Reynolds Trophy' for newly restored machines on its first outing at the 2008 Rudge Rally, many parts used in the rebuild having been sourced from the Rudge Enthusiasts Club's excellent new spares scheme. The vendor says that this tractable and lively 250cc lightweight has carried him, a heavyweight rider, with ease over the Tipperary countryside and Wicklow mountains in all weathers and on many local VMCC events, including a tour of the Czech Republic's Central Bohemian countryside. The machine is offered with old-style continuation logbook (1975), three expired MoTs (most recent issued 2009), current road fund licence, Swansea V5C document and a substantial restoration file. It should be noted that the M-L Maglita has been modified to provide self-energising coil ignition, enabling easy starting and steady low-speed tick-over while still charging the battery.