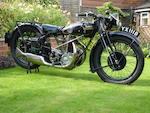 1928 Rudge 499cc Special
Registration no. YX 1118
Frame no. 28706
Engine no. 50787
Formed by the acquisition in 1894 of the Rudge Cycle Company Ltd by the Pugh family's Whitworth Cycle Company, Rudge-Whitworth built its first motorcycle in 1910 and is best remembered for its pioneering use of four-valve cylinder heads. Rudge-Whitworth's first four-valve production motorcycle made its public debut at the Olympia Show in 1923, and the company persevered with the layout until manufacture ceased at the outbreak of WW2. The motorcycling public's response to this new four-valve, four-speed model was enthusiastic and by the end of 1924 twice as many machines had been produced as in 1923. The full potential of Rudge's four-valves-per-cylinder design was slow to emerge but in 1928 Graham Walker's works '500' became the first motorcycle to win a road race - the Ulster Grand Prix - at an average speed in excess of 80mph, a feat which led to the introduction of the legendary 'Ulster' sports model. This Vintage-era Special was owned from 1949 to 2009 by Rudge enthusiast Leonard Rainbird and ridden and maintained continuously during his ownership. A well presented older restoration, the machine is offered with old-style continuation logbook (issued 1946), expired MoT (November 2007), current road fund licence and Swansea V5C document. It should be noted that the latter states that the date of first registration was 1936 and incorrectly records both the taxation class (Motorcycle Combination) and the engine's number, the motor having been changed.