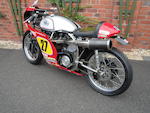 The ex-Steve Tomes
2003 Norton 500cc Molnar Manx Racing Motorcycle 'E077'
One of the modern-day classic scene's most surprising features is the plethora of replicas of great racing motorcycles from the not-too-distant past. Enthusiasts with deep enough pockets can choose from remanufactured versions of classic British singles such as the Norton Manx, Matchless G50 and Seeley, or Italian exotica such as the Paton twin, MV Agusta three-cylinder or Gilera four. You can even buy a Moto Guzzi V8. In the case of the British singles, and the Manx Norton engine in particular, specialist firms have taken the opportunity to develop the design way past the level achieved in-period by the works. Development has concentrated on increasing the bore size (with commensurate reductions in the stroke) enabling the use of larger valves and higher revs. One of the most successful of these short-stroke motors is the '95 bore' developed by Molnar Precision Ltd in conjunction with Fred Walmsley Developments, which has powered winners of the Classic Senior Manx Grand Prix, InCA European Championship and FIM World Classic Series.

The machine offered here was purchased from Molnar Precision Ltd. It incorporates the 95x70.46mm bore/stroke engine, which produces a claimed 56bhp at the rear wheel at 8,400 revs. These would be excellent crankshaft figures for a standard 86x86mm 500 Manx motor, though the latter would have grenaded well before then! Other specification highlights include a Hemmings six-speed gearbox, Falcon shock absorbers, stainless steel exhaust, Fontana 210mm double-sided TLS front brake, Manx conical rear hub/brake and Roadholder front forks. The Manx weighs 110kg (242lb) dry. Ridden by Steve Tomes, this machine finished 3rd in the 2003 FIM World Classic Series behind John Cronshaw and winner Glen English, the latter riding another Molnar Manx. Towards the end of 2003 the Manx was purchased from Andy Molnar by the current owner, a prominent private collector, and since acquisition has been kept on display in his museum.

This successful modern classic racer is offered with a comprehensive history file containing correspondence, specification details, race results, sundry invoices and dynamometer printouts.