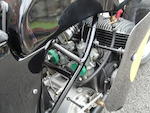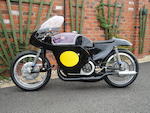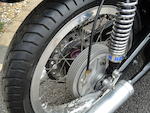 The ex-Barry Scully
1964 Scott 344cc Prototype Racing Motorcycle
In 1950 Scott went into voluntary liquidation and its assets were purchased by Matt Holder, owner of the Aerco Jig & Tool Company of Birmingham where production eventually resumed. Rumours of a new Scott racer began circulating in the motorcycling press early in 1964 and in July of that year the unique machine offered here received its press launch. (This event was covered by the magazines of the day and copies of related articles are in the comprehensive file of data accompanying the machine).

The men behind the project were Scott engineer Bill Reid, two-stroke engine gurus Hermann Meier and Brian Woolley, and Brian Bulmer, designer of the frame and cycle parts. Scott's new racing engine was an air-cooled twin-cylinder unit of 344cc, which drove via an Albion five-speed gearbox. Intended as a 350-class Clubman's racer, the Scott proved to be as fast as the AJS 7Rs on its racing debut at Oulton Park in October 1964, becoming steadily faster and more reliable as development progressed. In the Manx Grand Prix Scully was holding a respectable 10th place in the Junior race when the battery failed. This typified the kind of trivial problem that plagued the Scott. Late in 1965 Bruce Main-Smith tested the machine at Silverstone for Motor Cycling magazine, reporting that in terms of speed and handling it was far superior to rival 350s from AJS, Norton and Aermacchi. BM-S reckoned that the design had great potential but sadly the project ground to a halt and the Scott disappeared from view.
Little or nothing was heard of the Scott racer until 1988 when a lifelong Vintage Scott fan discovered the distinctive prototype engine in Len Vale-Onslow's emporium. Extensive enquiries then led to the discovery of the original machine (in dismantled form) still in the possession of Barry Scully. A rebuild was carried out over the next three years with the assistance of Brian Woolley (copies of all correspondence are on file). The restoration was completed in 1991 and the Scott returned to the racetrack at CRMC meetings.

Externally the machine is pure Scott: the barrels and crankcases, complete with labyrinth seals, are all original while internally there are many modifications including Rotax crank pins, Yamaha TZ silver-plated bearing cages, Yamaha RD400 con-rods and Kawasaki H1 pistons. Other improvements include a Newby belt primary drive/clutch and Boyer Bransden electronic ignition.

In April 2010 the Scott was purchased at Bonhams' Stafford sale (Lot 461) by Mr John Goddard, from whom it was bought by the current owner, a prominent private collector. Kept on museum display since acquisition, this unique and well-documented piece of British motorcycling history is offered with CRMC certificate and the aforementioned history file.