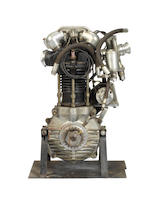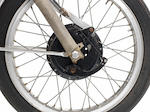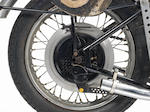 The ex-Bill Lomas
c.1947 Royal Enfield-JAP 350/500cc Racing Motorcycle
Frame no. to be advised
Engine no. 79583/4 Spare engine no. SOS/T 78436
Twice World Champion for Moto Guzzi in the 350cc class (1955 and 1956), Bill Lomas built this JAP-engined Royal Enfield racer in the late 1940s. His first 'special' constructed along these lines was a 250 Enfield, into which Bill fitted one of JAP's new 350cc racing engines. Also offered for sale at Stafford this October (Lot 314), that machine later housed Bill's one-off 250cc twin-cam racing engine.

After doing his National Service in the REME, Bill landed a job in Royal Enfield's competitions department and made full use of its facilities to further his racing ambitions. The 350cc JAP motor had been bought new from the factory using all of Bill's savings, much to his father's displeasure, but nevertheless served him well in the Enfield frame. He became Cadwell Park 350cc Champion in 1947 and was soon back in contact with JAP, purchasing a 500cc racing motor for £69 plus cost of delivery.

Riding his Royal Enfield 'specials', Bill won the 250cc, 350cc and 500cc Cadwell Park Championships in 1948, '49 and '50, and his excellent results at the Lincolnshire track and other British circuits led to offers of rides in Grands Prix and at the Isle of Man TT. In 1949 Bill had won sufficient prize money to be able to afford a new Velocette KTT, his first purpose-built racer, and his good results continued on the Velo. In his autobiography, 'Bill Lomas - World Champion Road Racer', he recalls a momentous meeting at Weston-super-Mare in the autumn of 1949: '... I managed to get entries in all the races, using the 500 Enfield/JAP, 350 Velocette and the 250 Enfield – which was really going very well. When I saw the entry list my heart fell. Bob Foster was there on the works GP Triumph and Velocette. Maurice Cann was on his TT-winning Guzzi. All the top brass were there. But I won all the races and from this event came an offer of a works Velocette ride for 1950, with Bob Foster.'

The Velocette offer meant that Bill had to part company with Royal Enfield, but there can be little doubt that the various specials developed during his time at Redditch had played an important role in setting him on the path to Grand Prix glory.

Offered for sale by the Lomas family, this historic racing motorcycle was last worked on in the 1970s and is presented in 'as last raced' condition. It comes with a spare JAP engine and three trophies: the Louth & DMCC Hammond Cup and Louth & DMCC Cadwell Park Junior Road Race Trophy, and the Weston-super-Mare Senior Road Race Trophy, all dating from 1949.